Slow Cooker Balsamic Pulled Pork
Ingredients
1 large onion, chopped
1 red bell pepper, chopped
1 (2 1⁄2 - 3 pound) boneless pork shoulder roast
1 teaspoon dried thyme
1⁄2 teaspoon dried rosemary
For the sauce
1 cup balsamic vinegar
3⁄4 cup ketchup
1⁄4 cup packed brown sugar
1⁄4 cup sugar or honey
1 tablespoon Worcestershire sauce
1 tablespoon Dijon mustard
Pinch red pepper flakes
1 clove garlic, minced
1⁄2 teaspoon salt
1⁄4 teaspoon freshly ground black pepper
Instructions
1. Place onion and bell pepper in slow cooker.  Add meat and sprinkle with thyme and rosemary.  Cover and cook on LOW 8 to 9 hours or until tender and falling apart. 
2. About 30 minutes before shoulder is finished, combine vinegar, ketchup, brown sugar, white sugar, Worcestershire sauce, mustard, red pepper flakes, garlic, salt and pepper in medium saucepan.  Bring to boil, reduce heat to low, and simmer, uncovered, 20 to 25 minutes or until sauce has thickened, stirring occasionally. 
3. Transfer meat to cutting board and pull meat apart using two forks, discarding any large pieces of fat.  Discard vegetable mixture from slow cooker and rinse or wash it if desired.  Return meat and sauce to slow cooker, stir well, and cook on LOW for 30 minutes before serving.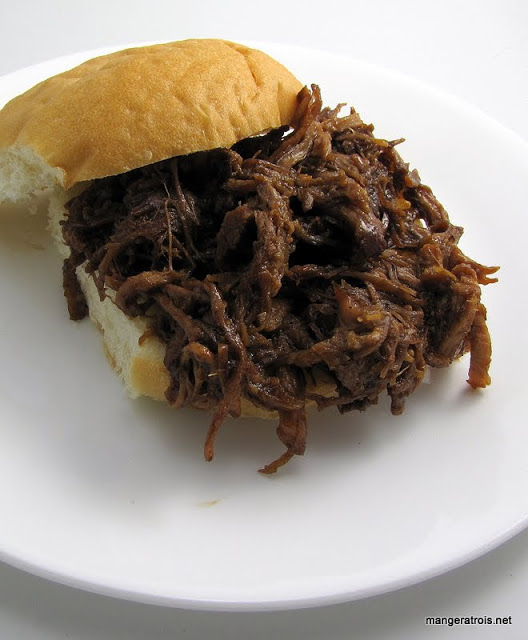 Comments
This recipe is from Handle the Heat and it was delicious!  I served it on rolls and I think we had a salad on the side.  The pork was deliciously balsamicy and super enjoyable.  Slow cooking can be so finicky, but pork shoulders are one of the cuts of meat that works very well to the cooking style.
Internet - Handle the Heat