Prosciutto-Wrapped Pork Tenderloin with Herb Pan Sauce
Ingredients
2 (12 ounces each) pork tenderloins (I could only find larger tenderloins, so I sliced mine in half.)
Salt and pepper
6 ounces prosciutto, thinly sliced
2 tablespoons olive oil
1 tablespoon all purpose flour
2 cloves garlic, minced
2 teaspoons fresh thyme, minced
1 1⁄4 cups chicken broth
3⁄4 cup lemon juice (about 2 lemons)
3 tablespoons fresh chives, minced
Instructions
1. Adjust oven rack to middle position and heat oven to 450*F. Pat tenderloins dry with paper towels and season with pepper. Wrap each tenderloin with prosciutto.
2. Heat 1 tablespoon oil in 12-inch skillet over medium-high heat until just smoking. Cook pork until browned on all sides, 5 to 7 minutes. Transfer meat to wire rack set in foil-lined rimmed baking sheet. Bake until meat registers 145*F, 15 to 18 minutes.
3. Meanwhile, heat remaining tablespoon oil in now-empty skillet over medium heat until shimmering. Add flour, garlic, and thyme and cook, stirring constantly, until fragrant, about 1 minute. Stir in broth and lemon juice and cook, scraping up any browned bits, until slightly thickened, about 3 minutes. Off heat, add chives. Season with salt and pepper to taste. Slice pork and serve with sauce.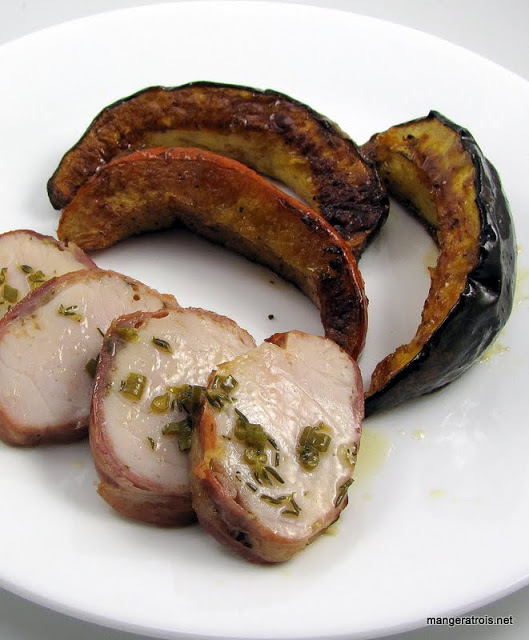 Comments
This recipe is from the 2011 Cook's County Annual.  Pork wrapped pork?  What could be better?!  The tenderloin was super tender and moist.  The sauce was light and just the right touch. 
Shown here with Maple-Glazed Acorn Squash.
Cook's Country 2011