Pork and Broccoli Stir-Fry with Ginger and Hoisin Sauce
Ingredients
2 teaspoons soy sauce
1 teaspoon dry sherry
1 teaspoon cornstarch
6 teaspoons ginger, minced
6 cloves garlic, minced
1 pound pork, cut into thin strips (I used the meat from 2 center cut pork chops.)
1⁄4 cup chicken broth
1 teaspoon hoisin sauce
1-2 tablespoons peanut oil
4 cups broccoli, cut into florets
Pinch red pepper flakes
Instructions
1. Combine soy sauce, sherry, cornstarch, 4 teaspoons ginger and 4 teaspoons garlic in bowl and stir well.  Add pork strips and stir to coat.  Let marinate while preparing other ingredients. 
2. Combine chicken broth, hoisin sauce, and red pepper flakes in small bowl. 
3. Heat 1 tablespoon oil in wok or large skillet over high heat.  Add broccoli and stir-fry, stirring often, for 3 minutes or until broccoli begins to become tender.  Remove broccoli to a plate and add more oil to the skillet if necessary. 
4. Add pork and marinating liquid.  Stir-fry pork 3 to 4 minutes, until cooked through and slightly brown.  Add remaining garlic and ginger and cook until fragrant.  Add broccoli and chicken broth mixture.  Continue cooking until sauce has thickened slightly and meat and vegetables are coated.  Serve with rice, if desired.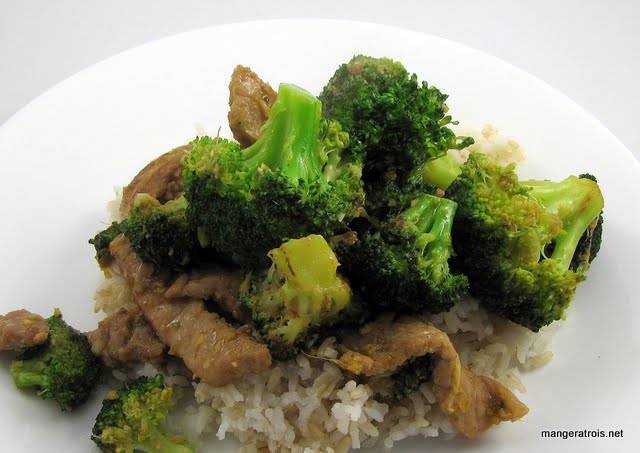 Comments
This recipe is from Kalyn's Kitchen and it was fairly tasty.  The broccoli I used wasn't awesome, sadly, and that affected the entire dish.  Aside from that, the flavors were good and the pork from the pork chops worked very well.
Internet - Kalyn's Kitchen