Gingery Pork Meatballs with Noodles
Ingredients
For the meatballs
1⁄2 cup fresh cilantro, chopped
1⁄4 cup breadcrumbs
1⁄4 cup red onion, finely chopped
2 tablespoons soy sauce
2 teaspoons ginger, grated or minced
3 cloves garlic, minced
1 pound ground pork
1 large egg, lightly beaten
For the noodles
1 pound pasta (Rice noodles are great if you can find them.) 
2 tablespoons sesame oil
2 small red or yellow bell peppers, cut into thin strips
2 cups snow peas, cut into thin strips
1 teaspoon salt
1 teaspoon crushed red pepper
1 tablespoon soy sauce
1 tablespoon mirin
1 tablespoon rice vinegar
1 cup green onion, thinly sliced
Instructions
1. Like baking sheet with foil and place in oven.  Heat oven to 450*F. 
2. Combine all meatball ingredients in large bowl, stir until blended.  Cover and chill 30 minutes.  Form golf ball sized balls, remove baking sheet from oven, and place meatballs on baking sheet.  Bake for 20 minutes, or until done.  (I used my disher for this.)
3. Bring large pot of water to boil.  Cook noodles according to package and drain well. 
4. Heat oil in large skillet over medium-high heat.  Add bell peppers, snow peas, salt , red pepper, soy sauce, mirin, and rice wine vinegar.  Stir fry, stirring often, until crisp tender, about 2 to 4 minutes.  Add pasta and green onions to skillet and toss.  Serve pasta topped with meatballs.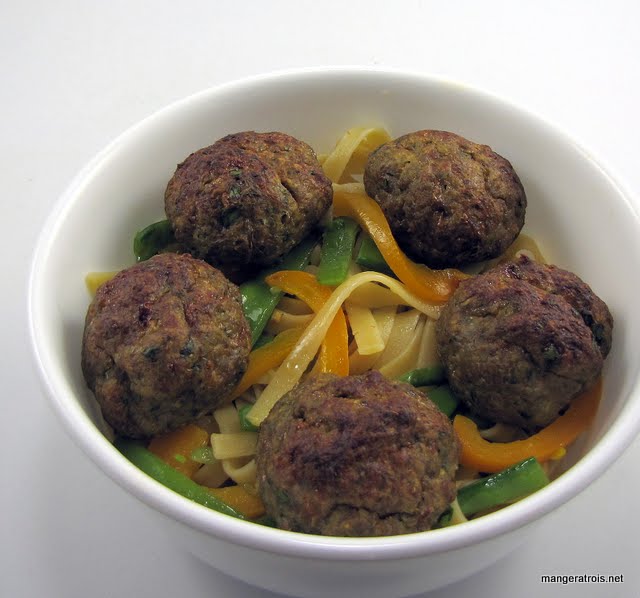 Comments
This recipe is from the 2011 Cooking Light Annual and it was great!  The meatballs were fantastically gingery and full of great flavor.  I modified the recipe for the noodles to include a bit more in the flavor department since they started off a bit bland.  All three of us loved this and there were no leftovers.  None at all.
Cooking Light 2011