Roast Pork Loin with Bacon and Brown Sugar Glaze
Ingredients
1 boneless pork loin
4 slices bacon, cut in half widthwise
1⁄2 teaspoon chili powder
1⁄4 teaspoon paprika
1 teaspoons salt
1⁄4 teaspoon coarse ground black pepper
1⁄4 teaspoon ground cumin
1⁄2 teaspoon ground cinnamon
For the glaze
1 cup brown sugar, packed
2 tablespoons flour
2 tablespoons cider vinegar (I used red apple balsamic vinegar.)
1⁄2 teaspoon dry mustard
Instructions
1. Heat oven to 350*F. 
2. Cover bottom of roasting pan or baking dish with aluminum foil and place pork loin in prepared dish. 
3. Combine chili powder, paprika, salt, pepper, cumin, and cinnamon.  Rub spice mixture over pork.  Lay bacon strips over pork loin.  Roast until instant read thermometer reads 125*F.   
4. Meanwhile, combine sugar, flour, vinegar, and mustard in small saucepan.  Bring to boil, reduce heat and simmer 1 minute.  Spoon glaze over pork and return to oven.  Roast until thermometer reads 140*F.  Remove from oven and let rest 5 minutes before slicing. 
5. Pour accumulated juices from dish into gravy boat (or liquid measuring cup), skim fat from top, and pass sauce at table.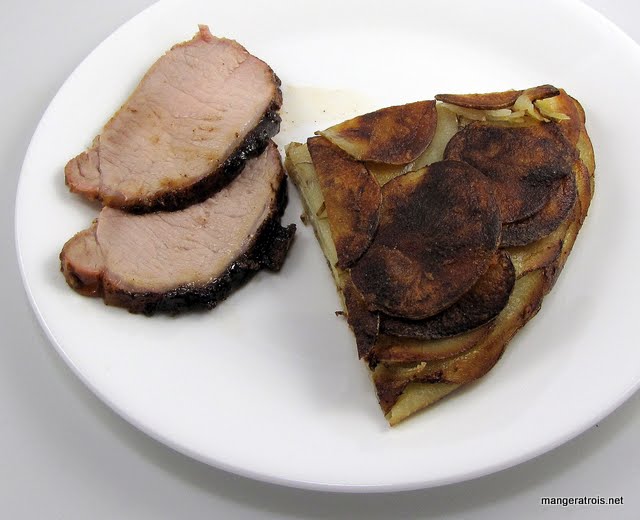 Comments
This recipe is from The Comfort of Cooking and I picked it because I knew Art would love it.  The bacon on top turns into deliciously sweet candied goodness.   My only complaint is that the temperatures in the original recipe are wrong so my pork loin was overcooked.  The recipe as posted here includes the correct temperatures, I should have double checked before cooking.  The glaze worked very well and, while it was sweet, a mouthful of pork makes it perfect. 
Shown here with Pommes Anna.
Internet - The Comfort of Cooking