Spice-Crusted Grilled Pork Tenderloin
Ingredients
2 pork tenderloins, 1 1⁄2 to 2 pounds total
1 1⁄2 tablespoons mustard seeds, cracked
1 tablespoon coriander seeds, cracked
1 teaspoon black peppercorns, cracked
1 teaspoon demerara or turbinado sugar
1 teaspoon kosher salt
1 tablespoon cornmeal
1⁄2 cup cornstarch
2 large egg whites
Instructions
1. Prepare grill.
2. Meanwhile, pat pork dry with paper towels. Combine mustard seeds, coriander seeds, peppercorns, sugar, salt, and cornmeal on rimmed baking sheet. Place cornstarch in large bowl. Beat egg whites until foamy. One at a time, coat tenderloins lightly with cornstarch, dip in egg whites, and transfer to rimmed baking sheet to coat with spice mixture.
3. Spray tenderloins lightly with cooking spray and grill, covered, over hot side of grill, turning occasionally, until browned all over, 6 to 8 minutes. Slide pork to cooler side of grill and continue to cook, covered, until meat registers 145*F, 6 to 12 minutes longer. Transfer pork to carving board, tent with foil, and let rest 5 minutes. Slice and serve.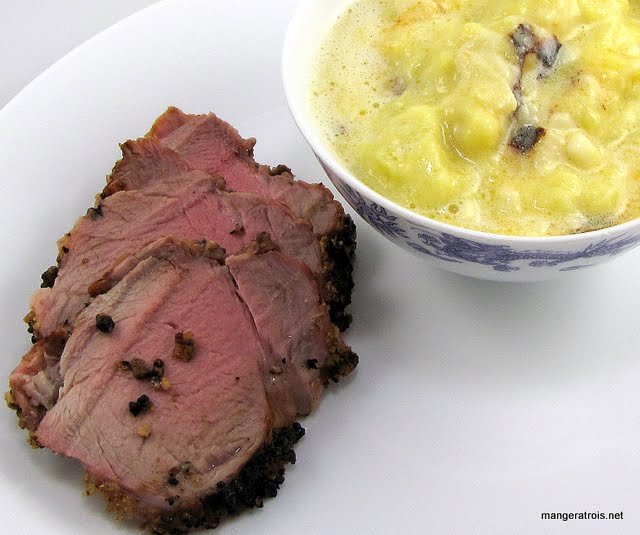 Comments
This recipe is from the 2010 Cook's Country Annual.  I "cracked" the spices in the spice rub by combining all the rub ingredients in my mini-processor and giving it a few pulses.  This worked very well and might be easier than cracking the spices using another method. 
I also only had one small pork tenderloin, so I used a pork loin as well.  Obviously it took a bit longer to cook, but it was delicious and the method and spice rub worked just as well on the loin as the tenderloin.  If you plan to use this on loin instead of tenderloin, you should double all amounts in the recipe. 
Shown here with Chantilly Potatoes.
Cook's Country 2010