Rabbit Ragout
Ingredients
1⁄2 cup olive oil plus 1 tablespoon
3 pounds rabbit pieces, about 2 whole rabbits
1 1⁄2 teaspoons salt
2 teaspoons freshly ground black pepper
1 cup instant flour, such as Wondra
2 cups onion, minced
1 cup carrot, minced
1 cup celery, minced
2 tablespoons garlic, minced
3 cups red wine
1 (14.5 ounce) can diced tomatoes
2 bay leaves
1 sprig fresh thyme
1 sprig fresh rosemary
1 teaspoon red pepper flakes
1 teaspoon dried oregano
1 cup chicken broth
2 pounds pasta, such as noodles
1 1⁄2 tablespoons all purpose flour
1 1⁄2 tablespoons unsalted butter, softened
1⁄4 cup fresh parsley leaves, minced
3⁄4 cup Parmesan cheese, grated or shredded
Instructions
1. In large Dutch oven, heat olive oil over medium-high heat.  Season rabbit pieces with 1 teaspoon salt and 2 teaspoons pepper.  Dredge pieces in instant flour and shake off any excess.  Place rabbit pieces in pan and cook until golden brown, about 3 minutes per side, working in batches if necessary.  Transfer rabbit to paper-towel lined plate and set aside. 
2. Reduce heat to medium-low and add onion, carrot, and celery and cook until the vegetables are browned and caramelized, stirring occasionally, about 30 minutes.  Add remaining salt, garlic, wine, tomatoes, bay leaves, thyme, rosemary, red pepper flakes, and oregano and cook 10 minutes longer. 
3. Return rabbit pieces to pan and add chicken broth.  Increase heat to high and bring to boil then turn temperature to low and simmer, covered, until rabbit is very tender, about 1 1⁄4 to 1 1⁄2 hours. 
4. Transfer rabbit to plate and set aside until cool enough to handle.  Remove bay leaves from Dutch oven.  Once rabbit is cool, carefully remove meat from bones and shred meat into bite-sized pieces.  (There will be some teeny bones, so be vigilant.)  Discard bones and return meat to sauce. 
5. Bring large pot of salted water to boil.  Add pasta and cook according to package directions.  Drain well and toss with 1 tablespoon olive oil until ready to serve. 
6. Combine all purpose flour with butter in small bowl until smooth paste forms.  Stir half butter-flour mixture into ragout to thicken.  Add more as necessary to achieve desired consistency.  Simmer sauce for 1 minute over low heat.  Remove from heat and stir in parsley and Parmesan.  Stir in pasta and serve.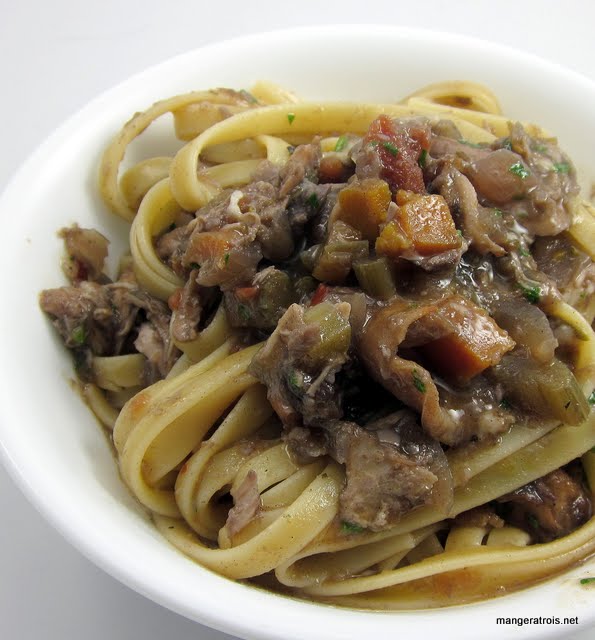 Comments
This recipe is from the new Emeril book, Sizzling Skillets and Other One-Pot Wonders. It's the first time I'd ever made rabbit or even eaten rabbit!  It was pretty tasty, a bit reminiscent of Coq au Vin in fact.  Lance ate all of the leftovers, eventually… it made quite a lot of food!  The original recipe called for 1 pound of pasta, but we felt that 2 pounds was more appropriate to the amount of ragout generated.  Yet another hit from Emeril.
Sizzling Skillets and Other One-Pot Wonders