Ginger Ice Cream
Ingredients
3 cups half and half (Or 2 cups whole milk and 1 cup heavy cream.)
1 cup white sugar
3 tablespoons fresh ginger, peeled and chopped
7 large egg yolks
Instructions
1. Bring milk, cream, and 1⁄2 cup sugar to a boil in a 3-quart heavy saucepan. Remove from heat, stir in ginger and let steep, covered, 15 minutes.
2. Meanwhile, whisk together yolks and remaining 1⁄2 cup sugar.
3.  Add a small spoonful of milk mixture to the egg mixture and whisk. Repeat, one spoonful at a time, until egg mixture is warmed.  Add egg mixture to remaining milk mixture and continue to whisk until completely incorporated. 
4. Cook over low heat, stirring constantly with a wooden spoon, until custard is thick enough to coat back of spoon (do not let boil).
5. Pour custard through a fine-mesh sieve into a metal bowl, discarding solids, and chill, covered, until cold, about 1 1⁄2 hours.  (Chilling it overnight is fine too.) 
6. Freeze in ice cream maker, then transfer into an airtight container and put in freezer to harden, at least 4 hours.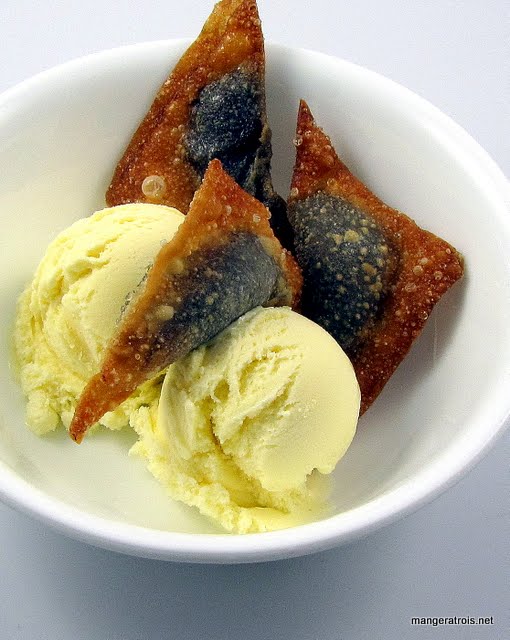 Comments
This ice cream recipe is from epicurious.com and I think it's one of the first I ever tried after I got an ice cream machine and, oh boy, did I screw it up.  I think I must have added 9 tablespoons of ginger that first time, and I didn't bother to strain it before freezing, and it was… not very good.  This time I followed the instructions and it was fantastic.  The ginger gives the ice cream quite a bite!
Shown here with Chocolate Wontons.
Internet - Epicurious