Chocolate Wontons
Ingredients
1⁄3 cup half and half
1 teaspoon unsalted butter
3 ounces semisweet or bittersweet chocolate chips
12 wonton wrappers (If you can't find wonton wrappers, egg roll wrappers cut into four squares will also work.)
1 large egg, lightly beaten
5 cups vegetable oil
Instructions
1. Bring cream and butter to a boil in a 1-quart saucepan. Pour hot cream over chocolate in a bowl and let stand 1 minute. Whisk ganache until smooth, then chill, covered, until firm, about 1 hour.
2. Lightly brush 1 side of each of 6 wonton wrappers with beaten egg, then put 1 1⁄2 teaspoons chocolate ganache in center of each. Fold filled wontons in half to form triangles, pressing gently around filling to eliminate any air bubbles and sealing edges with more egg. (If there are any pockets of air, wontons may burst when fried.) Make 6 more wontons in same manner. Freeze filled wontons on a wax-paper-lined tray until firm, about 20 minutes. (Note: You can make these ahead and freeze them until ready to use – I've frozen them for 12 hours with no problems.)
3. Heat oil in a 4-quart heavy saucepan over medium heat.  Fry wontons, 3 to 4 at a time, turning once, until golden brown, about 1 1⁄2 to 2 minutes total. Transfer with a slotted spoon to paper towels to drain. (Allow oil to return to temperature between batches.)  Dust with powdered sugar if desired and serve warm.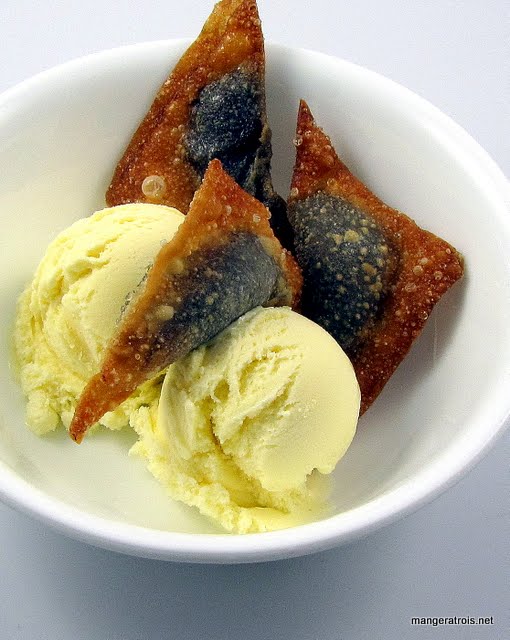 Comments
Years ago I ran across this recipe on epicurious.com and thought that it sounded pretty tasty.  I can't remember if I was looking for an Asian-inspired dessert or what, it was quite a long time ago.  They were delicious, but I never got around to making them again until now.  And they are still delicious.  They're fairly easy to make, but I can never make just 12.  I recommend doubling everything. 
Shown here with Ginger Ice Cream.
Internet - Epicurious