Maple Bacon Cookies
Ingredients
2 cups all purpose flour
1⁄2 teaspoon baking soda
1⁄2 teaspoon salt
1⁄2 cup unsalted butter, softened
1 cup brown sugar
1 teaspoon vanilla extract
1 large egg
1⁄2 cup plus 1 tablespoon maple syrup (Grade B preferred)
1 cup bacon, chopped and cooked until crisp
Instructions
1. Mix flour, baking soda, and salt in medium bowl. 
2. Add butter and sugars to mixing bowl.  Cream at medium speed for three minutes or until light and fluffy.  Add vanilla, egg, and maple syrup and continue mixing until well incorporated.  Stir in the bacon pieces.  Chill the dough in the refrigerator for at least 30 minutes. 
3. Heat oven to 350*F.  Using
4. Using a #20 ice cream scoop (about 2 tablespoons), scoop 6 balls of dough onto each cookie sheet.  Bake for 13-15 minutes or until golden brown.  Rotate the sheets halfway through cooking for even browning.  Let the cookies cool on the baking sheet for 10 minutes, then transfer to wire racks to cool completely.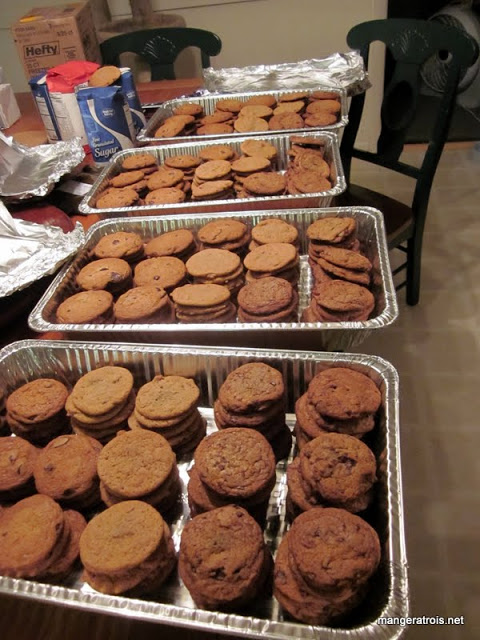 Comments
This recipe is from [Simply Recipes](http://www.simply(recipes.com/recipes/maple_cookies/), but modified by me to add bacon.  This probably sounds like a weird combination of flavors for a cookie, but a friend of mine requested that I make these for him for GenCon this year.  I tried out a few (recipes and ended up going with this one due to the great maple flavor and texture of the cookies.  They're chewy and delicious.  I ordered Grade B maple syrup from Amazon and it worked very well, but I can't tell you how regular Grade A would have been instead. 
Shown here with Chocolate Chip Cookies and Bacon Chocolate Cookies.  The Maple Bacon are the pale ones in the middle.