Bacon Chocolate Cookies
Ingredients
1 cup unsalted butter, melted
2 1⁄4 cups bread flour
1 teaspoon kosher salt or 1⁄2 teaspoon table salt
1 teaspoon baking soda
1⁄4 cup sugar
1 1⁄4 cups brown sugar
1 egg
1 egg yolk
2 tablespoons milk
1 1⁄2 teaspoons vanilla extract
2 cups Chocolate Covered Bacon, chopped into small pieces
Instructions
1. Mix flour, salt, and baking soda in a medium bowl.
2. Pour the melted butter into mixing bowl and add the sugars.  Cream on medium speed.  Add the egg, yolk, milk, and vanilla.  Mix until well combined.  Slowly incorporated the flour mixture until completely combined.  Stir in the chocolate bacon pieces.  Chill the dough in the refrigerator for at least an hour.
3. Preheat oven to 375*F and line baking sheets with parchment paper.
4. Using a #20 ice cream scoop (about 2 tablespoons), scoop 6 balls of dough onto each cookie sheet.  Bake for 13-15 minutes or until golden brown.  Rotate the sheets halfway through cooking for even browning.  Let the cookies cool on the baking sheet for 10 minutes, then transfer to wire racks to cool completely.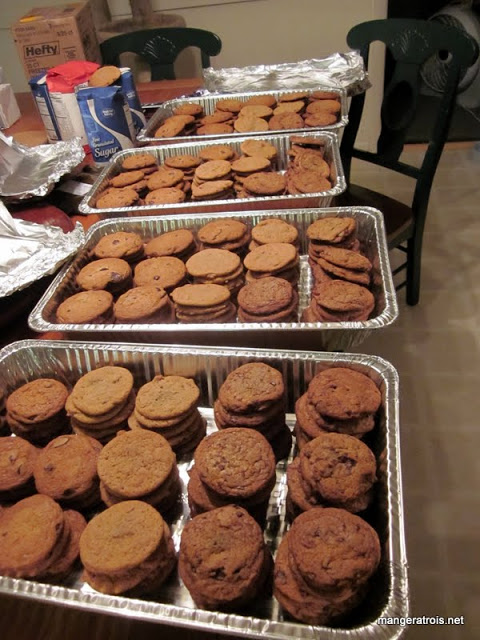 Comments
A friend of mine suggested that the Chocolate Covered Bacon would probably work better in a dessert than as a dessert, so I decided to give them a try in place of the chocolate chips in cookies.  They turned out really well and I definitely enjoyed the bacon more in the cookies than I did just as chocolate covered bacon.  My first batch was just a test run, so I'll add a picture once I make them again. 
This is just my standard Chocolate Chip Cookie recipe with the chips swapped out for bacon pieces.
The Bacon Maple Cookies are on the left side of each bin.