Mississippi Mud Cake
Ingredients
For the cake
4 eggs
2 cups sugar
1 cup butter, melted
1 1⁄2 cups flour
1⁄3 cup cocoa powder
1 teaspoon vanilla
1 cup coconut, flaked or shredded (optional)
1⁄2 cup pecans, chopped (optional)
1 7 ounce jar marshmallow fluff
_
For the frosting_
1⁄2 cup butter, melted
1⁄3 cup cocoa powder
1 teaspoon vanilla
6 tablespoons milk
6 cups powdered sugar
Instructions
1. Heat oven to 350*F. Grease 13 by 9-inch baking dish.
2. Beat eggs until thick. Beat in sugar until combined.
3. Combine butter, flour, cocoa powder, vanilla, coconut and pecans in medium bowl. Add flour mixture to sugar-egg mixture. Stir well. Pour into pan and bake 30 minutes, or until done toothpick inserted comes out clean.
4. Remove cake from oven and spread marshmallow fluff gently over warm cake. (The warmth from the cake will help to melt the fluff.)
5. Mix all frosting ingredients. Spread frosting over fluff using a table knife to swirl frosting into marshmallow. Cool before serving.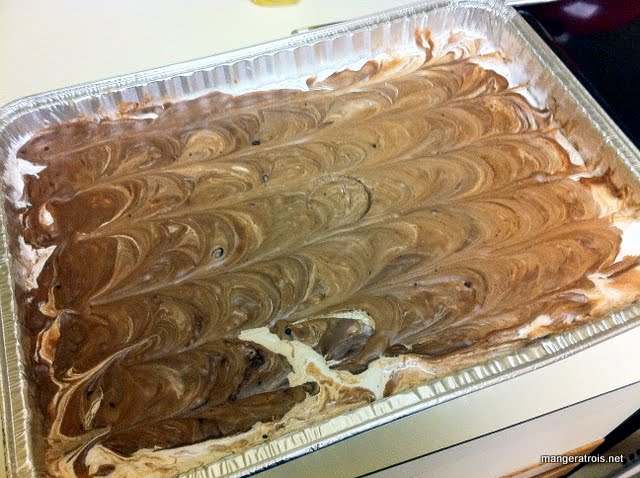 Comments
This recipe is from my most excellent mother.  I assume that she initially got it from a magazine or newspaper, since her recipe card is a glued clipping.  This recipe has been in my life for as long as I can remember and it was always a grand treat for birthdays when we'd get Mississippi Mud.  The best part of the cake is when you get a piece 3 to 4 days after it has been made because the frosting crystallizes a bit and it's stellar.  Not that the cake often lasts so long, but it's great when it does! 
I think that, in the future, I might make a few changes because no one in the family has quite the sweet teeth that we did 20+ years ago.  In the future I'd double the cake part of the recipe and keep the frosting the way it is.  Or bake it in a 9 by 9 and halve the frosting while keeping the cake the same.  As the recipe stands, the frosting layer is about as thick as the cake layer, and it would be nice to have a 1:2 ratio. 
This specific cake was made for my mother's birthday.  I'm sure she was happy that there were 6 other people to help her eat it all!  (We only had one votive candle, which is why there's a round dent in the middle of the cake.)
Person - Mom