Beef Taco Bake
Ingredients
2 (10 ounce) cans Ro-Tel tomatoes, drained with 1⁄2 cup liquid reserved
1 (16 ounce) can refried beans
1 tablespoon hot sauce (I used Sriracha.)
1⁄4 cup fresh cilantro, chopped
3 cups Mexican cheese blend, shredded
1 1⁄2 pounds lean ground beef
1 (1.25 ounce) package taco seasoning mix (I prefer the low-sodium varieties.)
12 taco shells
3 green onions, sliced thin
Instructions
1. Adjust the oven rack to upper-middle position and heat oven to 475*F. Combine half of tomatoes, beans, hot sauce, and cilantro in a 13 by 9-inch baking dish and spread evenly.  Sprinkle with 1 cup cheese.
2. Cook beef in large nonstick skillet over medium-high heat until no longer pink. Pour off fat, and then stir in taco seasoning, remaining tomatoes, and reserved tomato juice. Simmer over medium-low heat until thickened and nearly dry, 5 to 7 minutes.
3. Spoon 1 tablespoon cheese into each taco shell and top with beef mixture. Arrange tacos upright in bean mixture, cover with foil, and bake until bubbling, about 10 minutes. Remove foil, top with remaining cheese, and bake until cheese is melted, about 6 minutes. Sprinkle with green onions. Serve.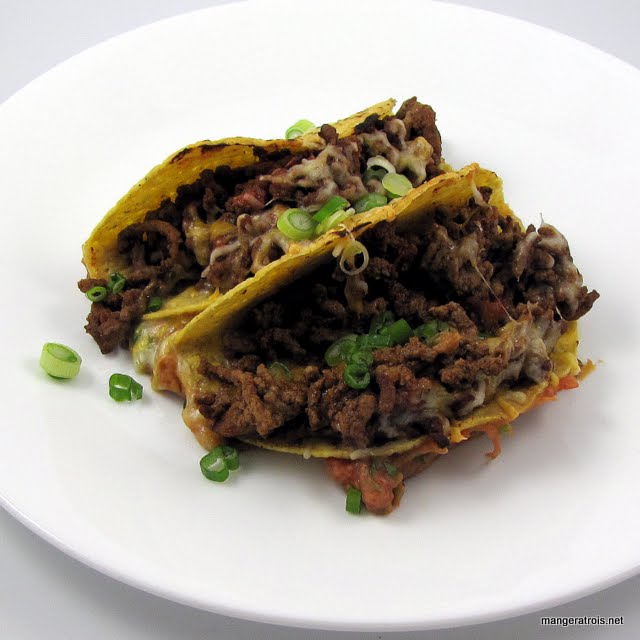 Comments
This recipe is from the 2007 Cook's Country Annual and just like a fun, easy, and tasty dish to make.  Turns out, it was!  I did find it to be a tidge too spicy, but I had intended to serve it with lettuce and completely forgot this plan once I was in the store.  I think that lettuce or even a dollop of sour cream would have taken the heat down the tiny notch I would have preferred.  Art and Lance felt it was perfect. 
This came together surprisingly quickly and I think it was ready in just about 30 minutes.  I will definitely be making this again!
Cook's Country 2007