Ingredients
Streusel
2 tablespoons all purpose flour
2 tablespoons unsalted butter, melted and cooled slightly
1⁄4 cup light brown sugar, packed
2 teaspoons ground cinnamon
3⁄4 cup pecans, toasted (Optional)
Cake
2 1⁄2 cups all purpose flour
1 teaspoon baking powder
1⁄2 teaspoon baking soda
1 teaspoon salt
2 cups sugar
4 large eggs, room temperature
1 cup sour cream, room temperature
1 teaspoon vanilla extract
16 tablespoons unsalted butter, melted and cooled
Glaze
1 1⁄4 cups powdered sugar
1 1⁄2 tablespoon milk (whole, low-fat, half and half, whatever you've got)
1 teaspoon vanilla extract
Instructions
1. Process flour, butter, brown sugar, cinnamon, and pecans (if using) in food processor until finely ground. Transfer streusel to bowl and wipe out food processor.
2. Adjust oven rack to middle position and heat oven to 325*F. Grease and flour bundt pan. Combine flour, baking powder, baking soda, and salt in bowl. In food processor, blend sugar, eggs, sour cream, and vanilla until smooth, about 1 minute. With machine running, slowly pour in butter until incorporated, and then add flour mixture and pulse until just combined.
3. Pour half of batter into prepared pan and top with streusel mixture. Cover with remaining batter, using rubber spatula to smooth surface. Bake until golden brown and toothpick inserted in center comes out clean, 50 to 60 minutes. Cool cake in pan 20 minutes.
4. While cake is cooling, whisk powdered sugar, milk, and vanilla in a bowl until smooth. Turn out cake onto large plate. Pour glaze over warm cake. Cool completely, at least 2 hours. Serve. (Cake can be stored at room temperature, covered in plastic wrap, for 2 days.)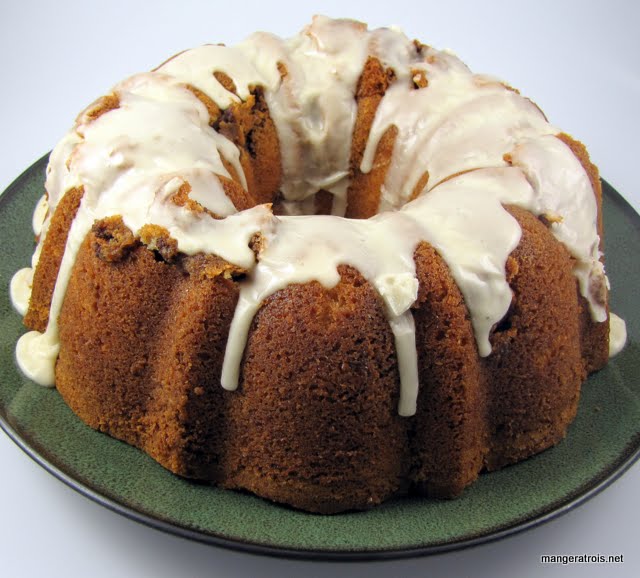 Comments
I'm sure I've mentioned this before, but my family loves coffee cakes so I decided to give this recipe a go when I saw it in the Cook's Country 2009 Annual.  We were definitely not let down!  My parents, Art, and Lance all enjoyed this cake a great deal.  It was moist, buttery, and flavorful.  I omitted the nuts for Lance but I'm sure it would be just as fantastic with them.  To toast the nuts, just spread them out on a baking sheet in the oven while it's preheating.  
Making it was pretty fun too!  It seemed like the batter was really an emulsion after adding the butter which was spiffy.
Cook's Country 2009