Breakfast Enchiladas with Ham and Peppers
Ingredients
2 cups cooked ham, chopped (I used deli ham.)
1 cup red bell pepper, finely chopped
1⁄2 cup green onions, sliced
2 cups cheddar cheese, shredded
10 (8 inches each) flour tortillas
6 eggs
2 cups half and half
1 tablespoon all purpose flour
1⁄2 teaspoon salt
Instructions
1. Spray a 13-inch by 9-inch baking dish with cooking spray and heat oven to 350*F. 
2. In a large bowl, stir together ham, bell pepper, green onion, and 1 cup cheese.  Split ham mixture evenly between tortillas, roll, and place seam-side down in baking dish. 
3. In now-empty bowl, beat together eggs, half and half, flour, and salt.  Pour over tortillas.  Sprinkle remaining 1 cup cheese over top then cover with aluminum foil.  Bake 35 minutes.  Uncover and bake 10 more minutes or until eggs are set and cheese is melted.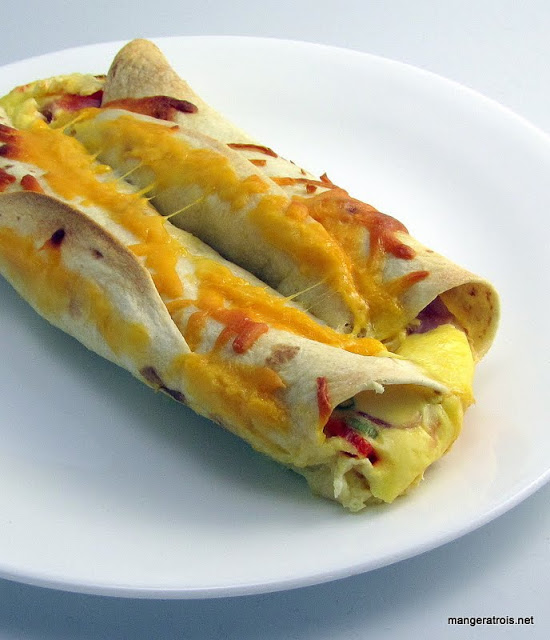 Comments
This recipe is from Inspired Taste.  I enjoy having eggs for the proteins in our meals; I just have a habit of forgetting!  I saw this recipe and thought it would make a tasty meal, which is certainly did.  Like quiche, It's infinitely versatile, you could easily add mushrooms, switch the cheese to Swiss, use bacon, whatever you like.  I served these with salsa and sour cream.
Internet - Inspired Taste