Biscuits and Gravy
Ingredients
For biscuits
3 cups (15 ounces) all purpose flour
3 teaspoons baking powder
3/4  teaspoons baking soda
1 1⁄2 teaspoons sugar
1 1/4  teaspoons table salt
1 1⁄2 cups buttermilk, cold
12 tablespoons unsalted butter, melted and cooled slightly
For gravy
1 pound loose breakfast-friendly sausage, or links with casings removed
12 tablespoons butter
3⁄4 cup all purpose flour
1 1⁄2 teaspoons salt
3⁄4 teaspoon pepper
6 cups milk
Instructions
1. Preheat oven to 475*F. 
2. Whisk flour, baking powder, baking soda, sugar, and salt in large bowl.  Combine buttermilk and 8 tablespoons warm melted butter in medium bowl, stirring until buttermilk and butter for small clumps. Add buttermilk mixture to dry ingredients and stir with rubber spatula until just incorporated and batter pulls away from sides of bowl. 
3. Using greased 1⁄4-cup dry measure, or #30 disher, scoop level amount of batter and drop onto parchment-lined baking sheet.  Repeat with remaining batter, spacing biscuits about 1 1⁄2 inches apart.  Bake until tops are golden brown and crisp, about 12 to 14 minutes.
4. Meanwhile, cook sausage in large skillet over medium heat, breaking meat into smaller pieces with wooden spoon.  Remove cooked sausage to bowl. 
5. Melt butter in same skillet.  Stir in flour, salt and pepper.  Cook over medium-low heat, stirring, until smooth and bubbly. 
6. Slowly stir in milk.  Increase heat to medium and cook, stirring constantly, until mixture thickens and comes to a boil.  Boil and stir one minute.  Add sausage and stir to combine. 
7. To serve place one or two biscuits on each plate and top with gravy.  (Or three or four, depending on appetite!)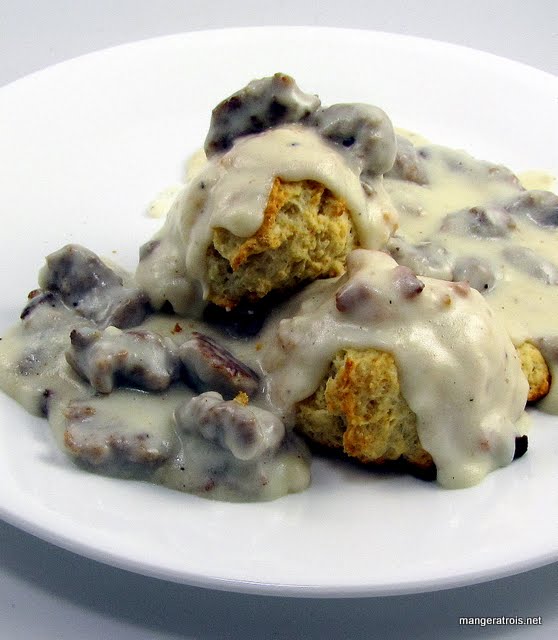 Comments
This recipe is a combination of these biscuits and the gravy from Cooking for Seven.  I made the biscuit recipe earlier in the week and thought they were amazing.  Knowing that Art's all time favorite breakfast is Biscuits and Gravy, I had my mission.  It's safe to say that this was quite a success!  Art was thrilled and thought everything was delicious.  He loved the biscuits, he loved the gravy, he was sad he wasn't home to gobble down all of the leftovers.  I, however, was happy that I didn't have to share the leftovers with anyone!
Internet - Cooking for Seven