The Meat – October 2011
About a month after meeting the Zekiah Farm animals, we were able to pick up our meat from the farm.  The lamb isn't ready yet, which is probably a good thing, since our freezers are VERY full with what we picked up today.  We picked up 1⁄2 cow and 1⁄2 pig this time.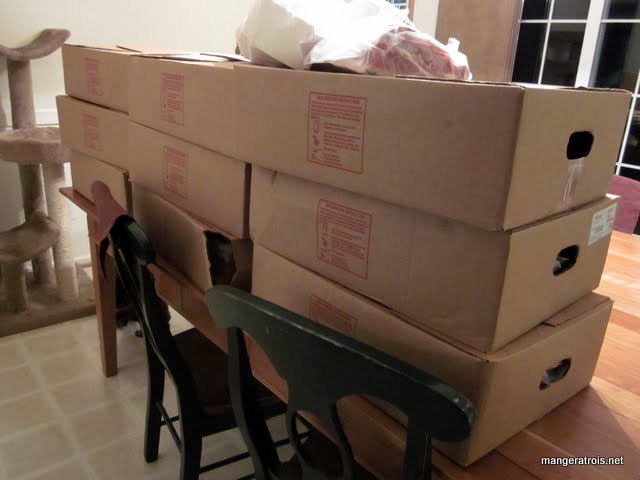 Art and I headed to the farm and chatted with other farm friends while everything got staged and customers were rung up in the register.  Picking up meat is never a quick trip since we enjoy the camaraderie quite a bit as well!  We filled our car with nine boxes of meat – seven of cow and two of pig.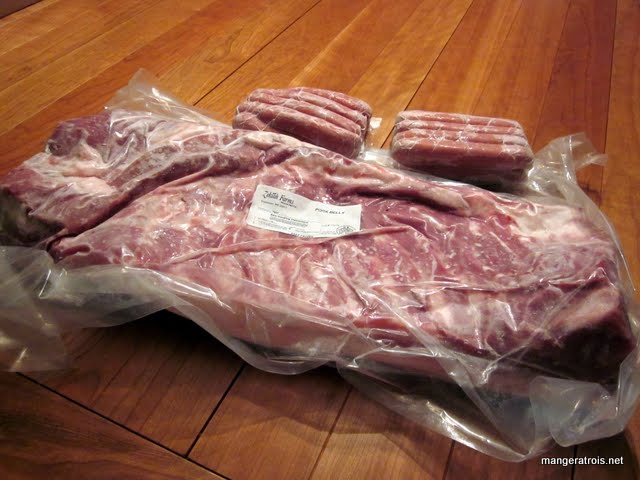 This first picture isn't actually from our bulk order, I just needed two packs of hot dogs and we ordered a pork belly from another pig to replace the one we never got to use due to The Great Freezer Disaster of '11.  The plan is to cut it in thirds and go from there.  I have this desire to make the perfect BLT with home smoked pork belly and local tomatoes.  We'll see if the tomatoes are in compliance at the market this weekend.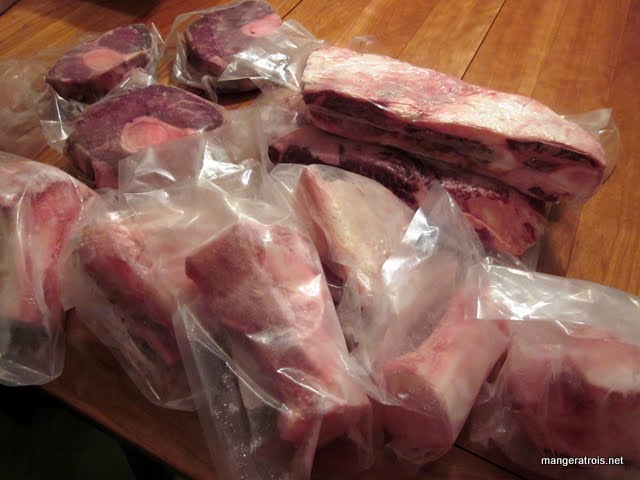 This picture shows three packs of short ribs, three soup bones, and five marrow bones.  I'm not sure what will be happening with any of these things, but I know it will be spectacular.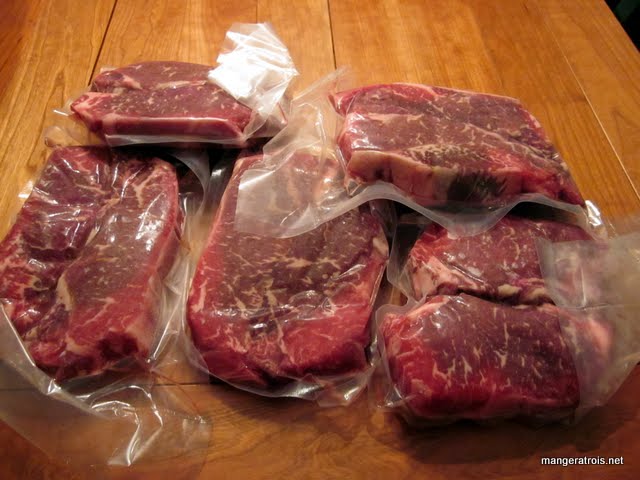 The only downside with our cow order, if it can even be called that, is the NY Strip.  We had wanted the entire thing in roast form but the butcher (not our farmer) decided that we really wanted steaks.  So we got 10 really pretty NY Strip Steaks.  We'll eat them, and enjoy them, so it's no big deal.  Hopefully next time we'll get the roast whole.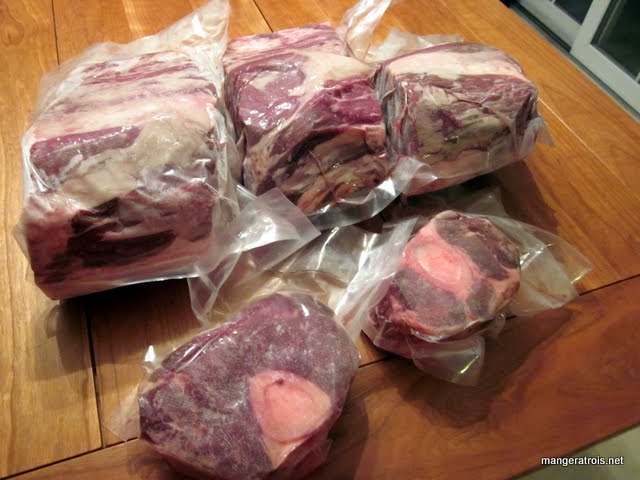 Two more soup bones are here and there are three rib roasts.  Rib roasts are very exciting and I'm looking forward to giving them a try!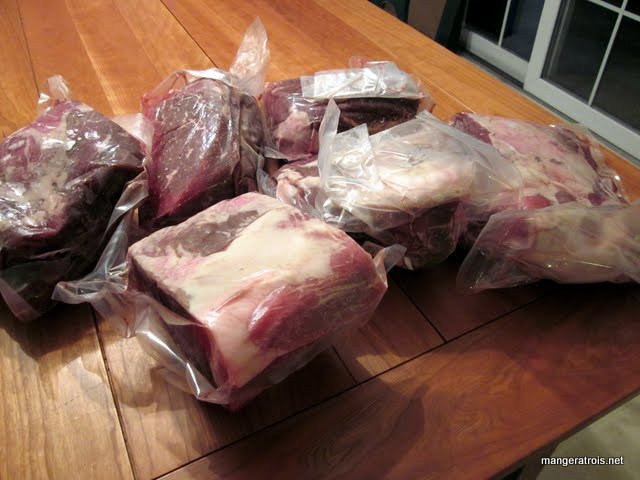 This is a collection of roasts – top rounds and rump roasts.  I think.  We got these in 3-5 pound packs, which is a nice size for our family and when we've got company.  Very manageable!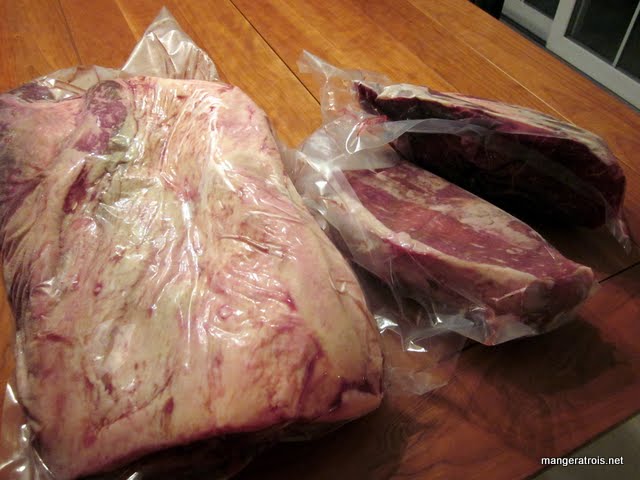 Here is our beautiful brisket which Art will smoke perfectly, the eye round roast (one of my favorite cuts), and another top round roast.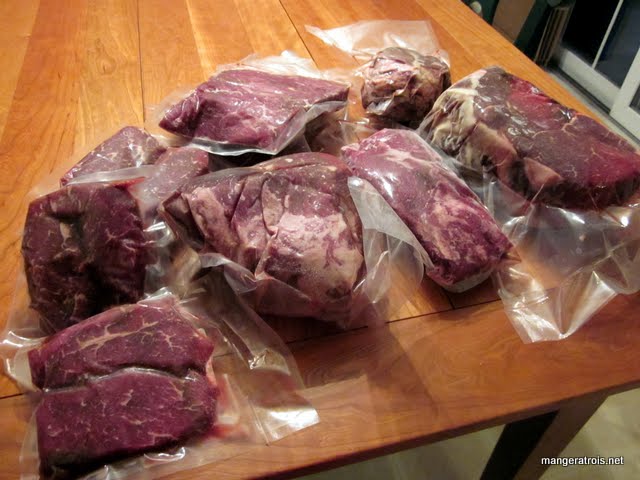 This picture has flat iron steaks, ranch steaks, the hangar steak, skirt steak, and a few more roasts.  It's hard to tell from the pictures, but all of this meat has amazingly gorgeous marbling.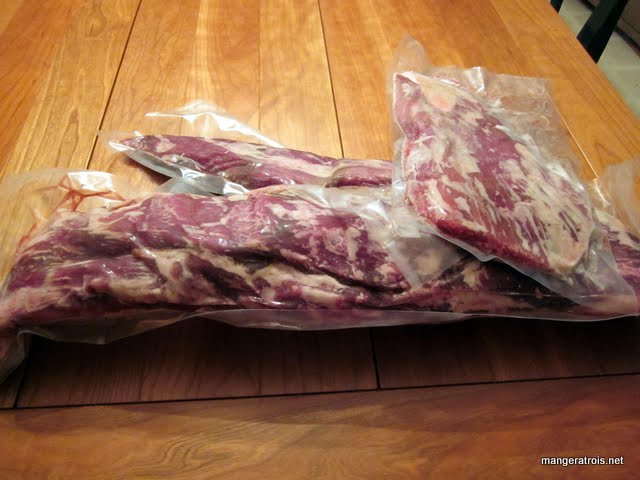 That huge piece of meat is the filet roast.  We're weird and chose to forgo filet steaks, I can't wait to roast this into deliciousness.  The flank steak and petite tender are also in this picture.  I have no idea what a person does with a petite tender, but I'm sure it will be tasty.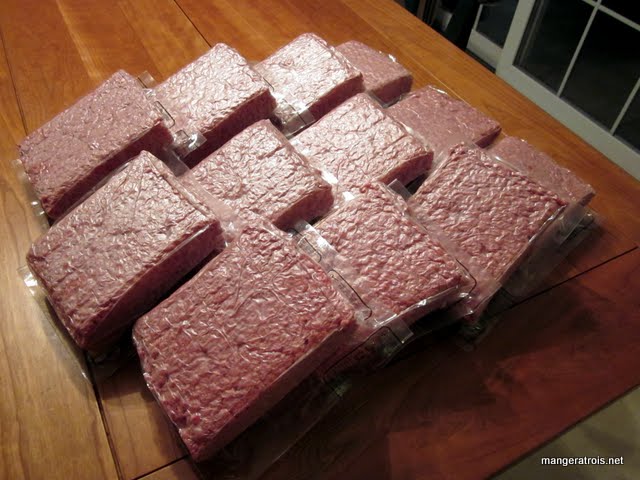 And then there's the ground beef.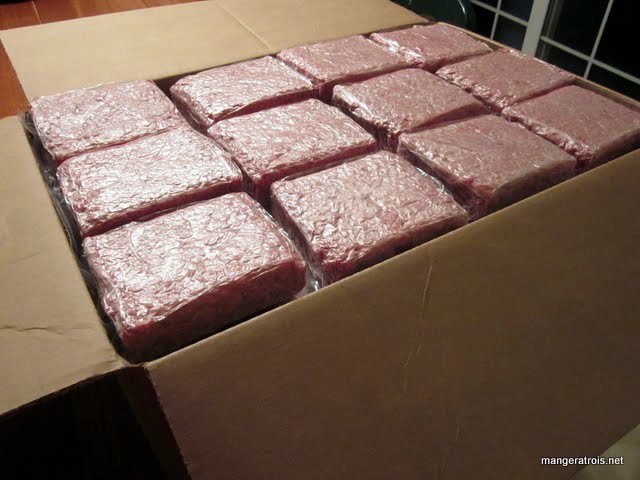 120 pounds of ground beef, to be exact.  Mostly all from the chuck since chuck meat is primarily good for braising, which is a cooking method Art just Does Not Like.  So instead we ended up with a whole lot of ground beef.  I predict many tacos in our future.  I love tacos.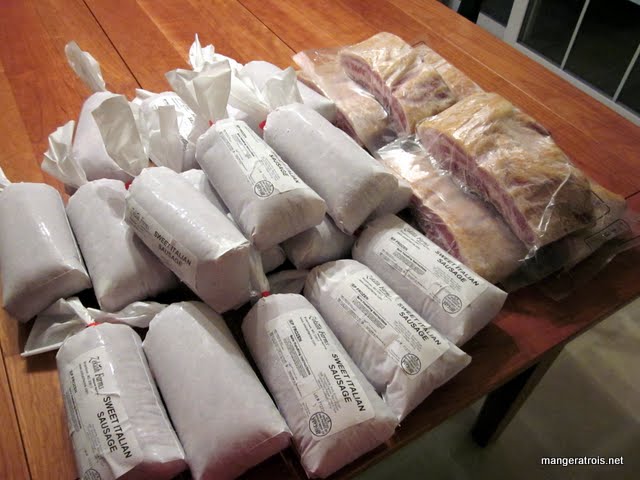 Then there's the pig.  We opted to get our ground pork as sweet Italian sausage because that's our favorite way to use pork.  We didn't end up with a lot of bacon from this pig, but I opted to get it in one pound chunks instead of sliced.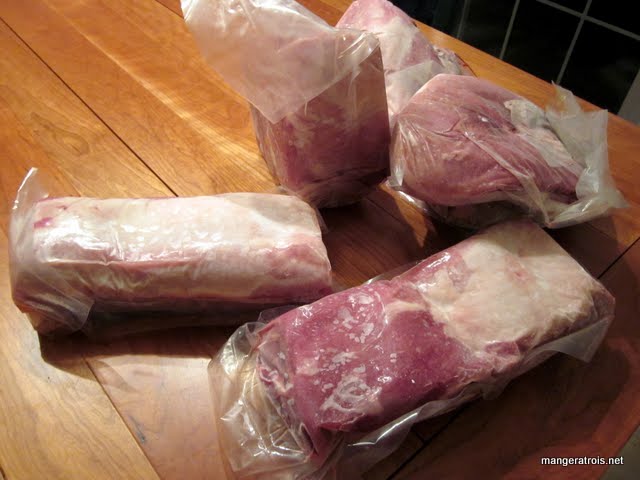 This pig gave us two pork loins and three fresh hams.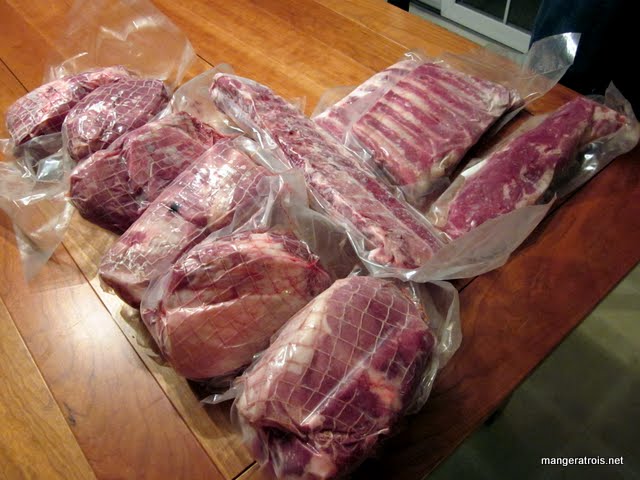 We also ended up with six shoulder roasts, spare ribs, baby back ribs, and a tenderloin. 
Our freezers are almost completely filled with all of this delicious meat and I'm very excited about all of the great meals I'll be able to make with it all in the year to come!  It still weirds me out to buy a year of meat all in one fell swoop – especially when it hits my bank account, but it's a great experience and I'm so glad we've started doing it.
Thank you Zekiah Farms!