Local Food 11/7/2009
Apparently I was wrong about last week being the final week of the CSA!  Oh happy day!  It seems that we still had 1-2 weeks left.  So it's either this week that's the last week or next week that is.  I'm pretty bad at keeping track of things like this.  I do know that the last Sunday of the market is the 22nd of November but they have a special market day on the 25th so that people can get last might Thanksgiving goodies.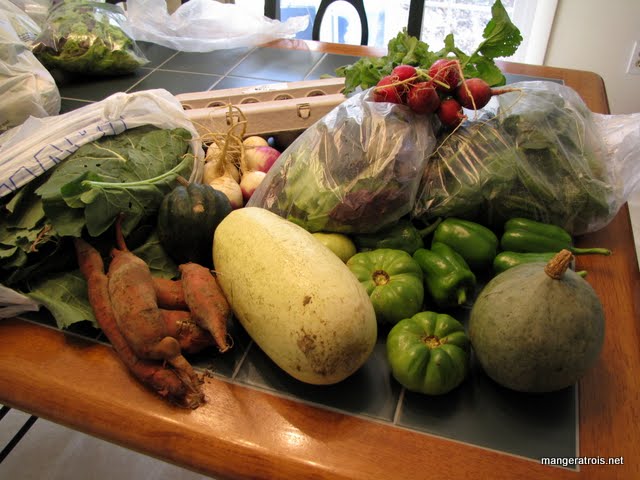 The CSA box was glorious this week.  Starting in the top leftish, we received turnip greens, turnips, eggs, salad mix, radish, spinach!!, bell peppers, a hubbard squash, green tomatoes, spaghetti squash, acorn squash, and sweet potatoes.
I plan to bake all of the sweet potatoes I've collected so far, scoop them out, mash them, and store them in the freezer for future use.  I just need to make the time to do this and haven't found it yet.  Maybe I'll be able to get that taken care of on Thursday.  
I have accumulated three spaghetti squashes so far and I'm going to use them to remake a dish I made a few months ago that was delicious.  I'm pretty excited about that!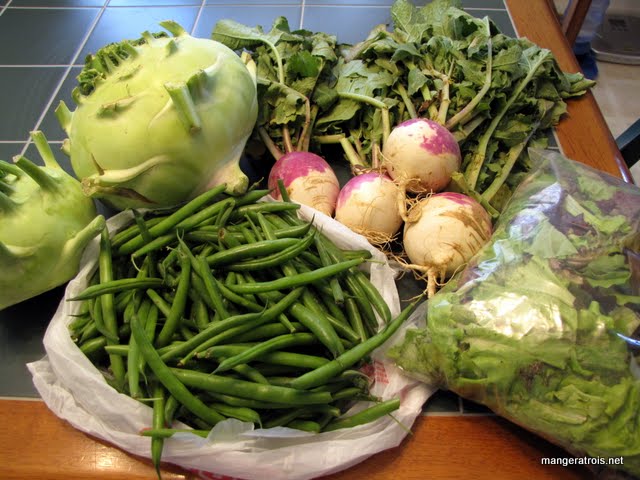 Elsewhere at the market I picked up more kohlrabi, turnips, an extra bag of salad greens, and some lovely bright green beans.