Dupont Circle Farmers Market October 2009
Art and I ended our mini-vacation with a trip to the Dupont Circle Farmers Market.  We had been looking forward to this for the entire trip and we were extremely impressed and awed!  The market covered an area that felt like a good block and had at least 30 different farmers.  It was HUGE and bustling with people.  I was glad that there was an ATM for my bank about 10 feet away since I was not prepared for all of the things I wanted to buy!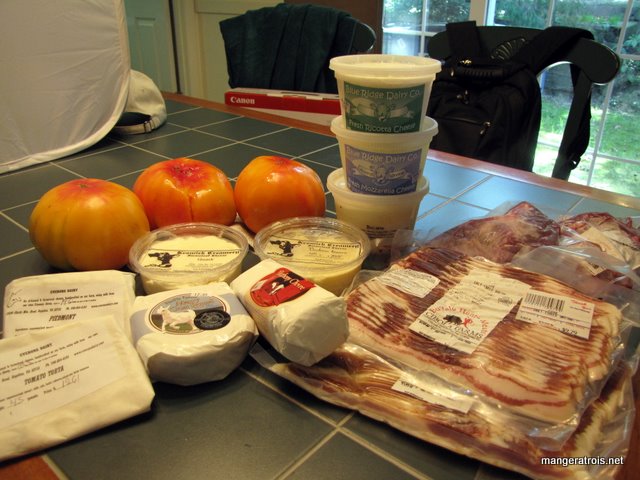 As you can see, what I did buy was lots and lots of cheese.  The market had goat cheese and sheep cheese and cow cheese in every sort of variety imaginable.  I couldn't choose so we came home with Fresh Ricotta, Fresh Mozzarella, and Burrata from one farmer.  From another we got the two tubs in the middle – one is similar to cream cheese and the other is similar to mozzarella, both from grass fed, happy cows.  Then we got sheep cheese from the Shenandoah region.  One wedge is called Piedmont which is sort of similar to cheddar if I recall correctly.  The other is Tomato Torta.  Then there's the sheep cheese from the Allegheny area.  One is a chèvre and the other is sort of like a Brie with a little blue in the rind.  
Since tomato season was almost over, I just had to get three of these Mr. Stripey tomatoes.  Sadly two got a bit smooshed in the car, but that just meant I had to eat them first.  Oh no!  
Then we got meats.  Two packages of bacon and, just beyond, are two small buffalo flank steaks.  
I have no idea at all what I'll do with all of this cheese.  I guess we could just have cheese plates for dinner a few nights? All of the farmers were giving tastes of all of their cheeses and I just couldn't resist.  Yum.  
And while I didn't actually buy any, here's a picture of some beautiful young, fresh ginger that I just had to share.