The Norway Diaries - Part Three
This post recounts May 25th to the 27th.
May 25 Tromsø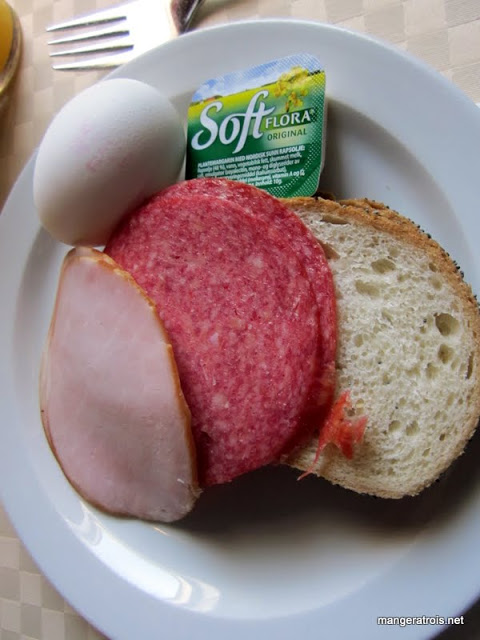 This is probably the point where I have completely lost all time sense.  It's funny how vacations will do that to a person!  Lance had his usual breakfast.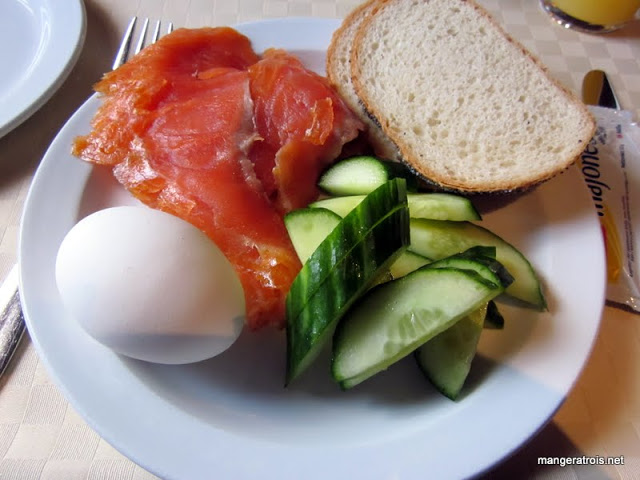 And I had mine.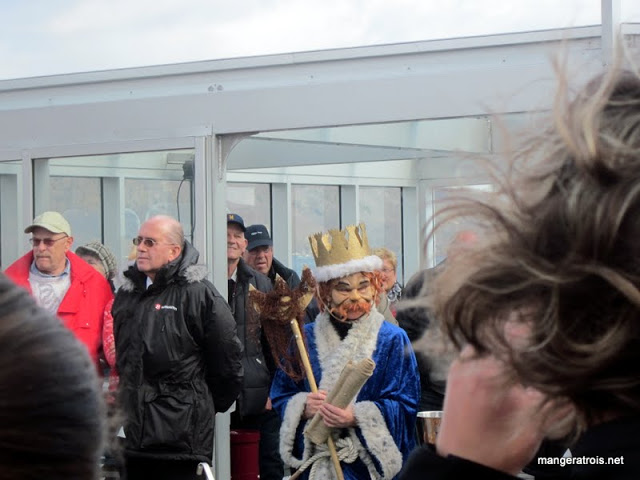 Then we met King Neptune up on deck.  We opted out of the "arctic baptism" since getting ice cold water down our backs was unappealing!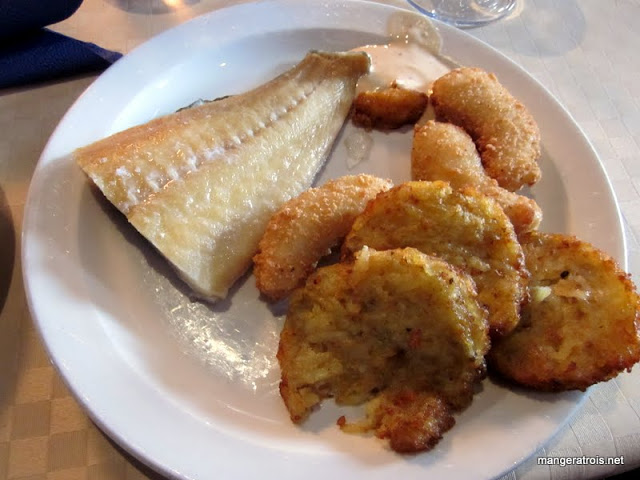 We did get off the ship for a brief walk at Finnsnes before lunch.  Lance had fish in various forms and potato patties.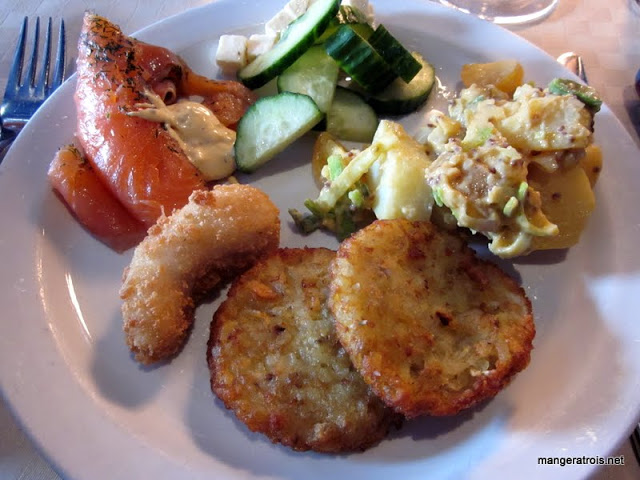 I also had fish and potatoes in various forms as well as cucumbers and feta.  We ate next to a very proper London couple and talked about cheese.  This was the first time since being on the ship that I'd gotten to talk with anyone other than Lance and it was quite nice!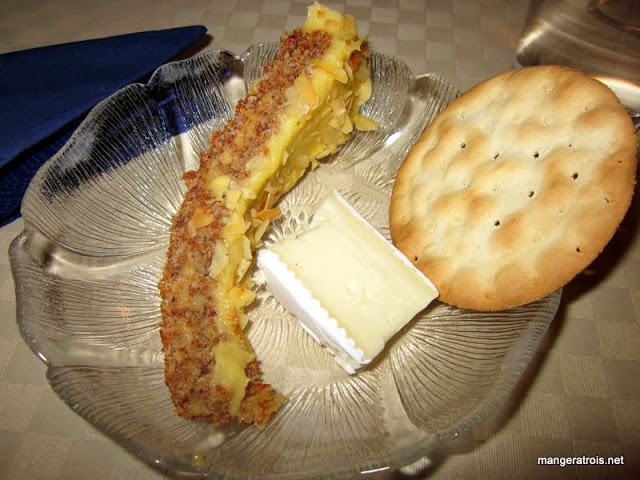 I also had a slice of cake.  It was sort of like a carrot cake but more almondy.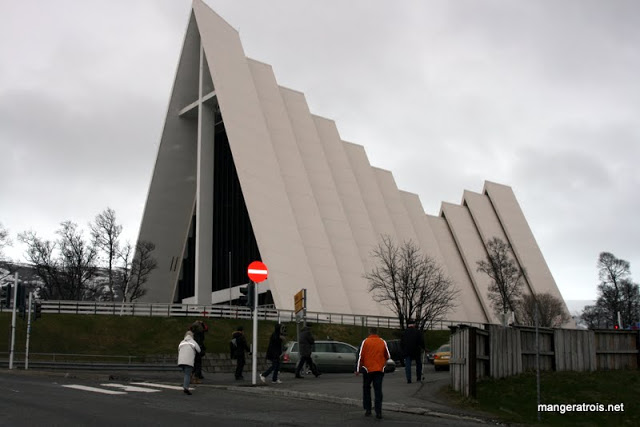 We made port in Tromsø around 2:30pm and the weather was pretty gross, cold, and wet.  But we figured out the city bus system and took a ride over to the Arctic Cathedral a.k.a., Tromsdalen Church, Tromsdalen Kirke, or Ishavskatedralen.  It's not actually a cathedral, just a very gorgeous church.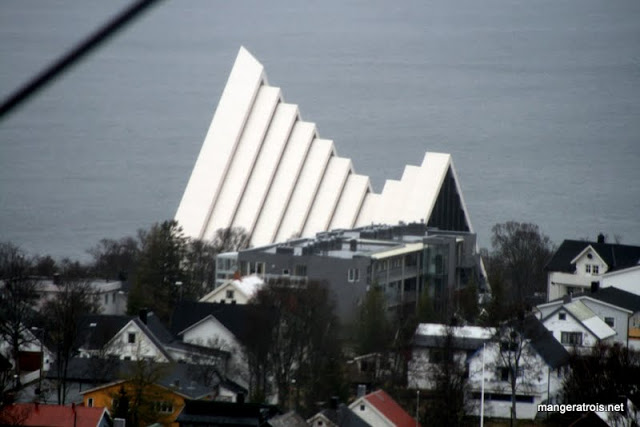 Along with Nidaros in Trondheim, it was the place I was most excited to see.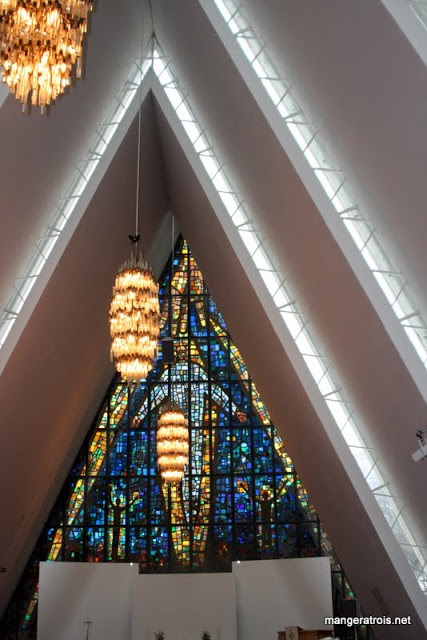 It's pretty tiny inside but has a gorgeous stained glass mosaic on one end.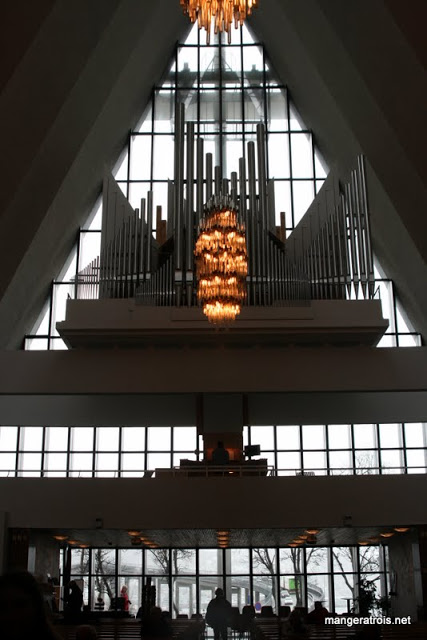 And this stunning organ on the other end.  The organist was there and playing, which was lovely!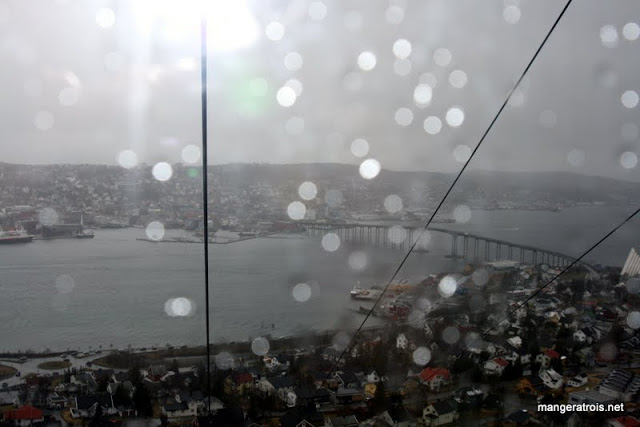 Then, because we are dumb, we decided to take the cable car up to the top of Tromsø.  We didn't see much and thought we were going to blow off the cable at one point!  (In this pictures you can see our ship on the far left and the Arctic Cathedral on the far right.)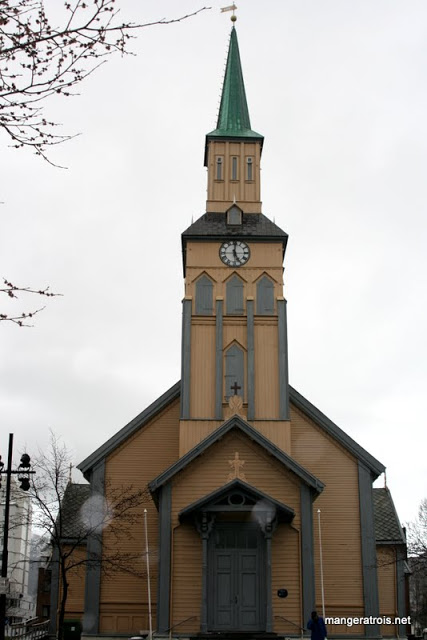 Once back to ground level, we saw the other church in Tromsø and did some souvenir shopping at a huge souvenir store.  Then it was back to the ship for the evening.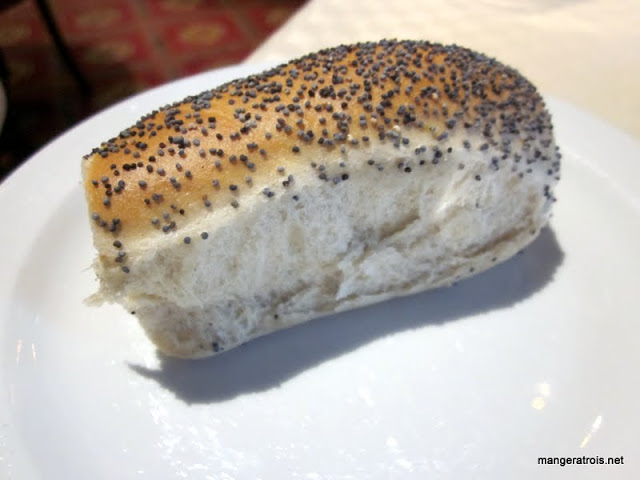 Our dinner roll.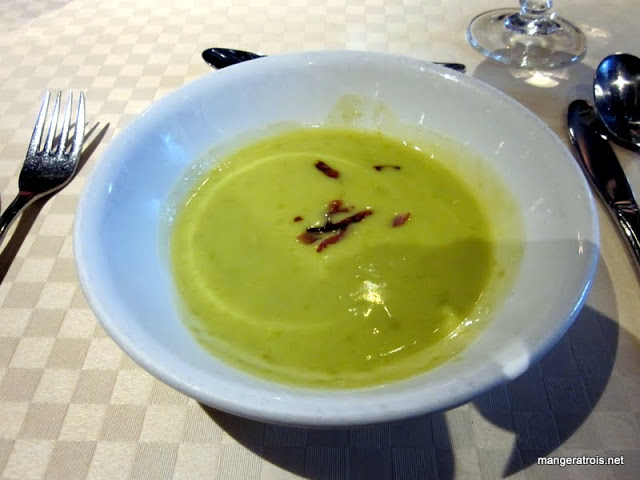 The first course was a very lovely "green pea soup with bacon and cream."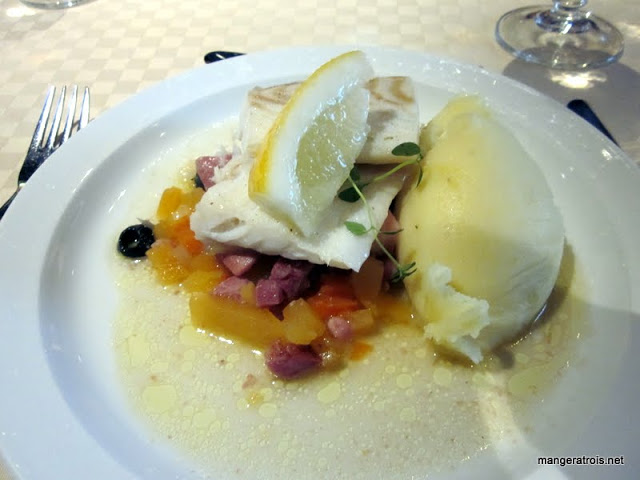 The second course was "grilled stock fish with potato puree, Sauce Porto and bacon."  This was the first meal that we saw many others have an issue with.  You see, stockfish is something we learned about on the bus back in Lofoten.  It's basically cod that is hung to dry for some months.  It is then either turned into lutefisk or rehydrated to cook "as normal."  It was fairly bland and had a much chewier texture than fresh cod, but both Lance and I thought it was palatable and even a bit tasty.  It wasn't a bad dish by any means, just a bit strange.  I think we were happier with it since we knew what it was and its importance to the region.  (It's funny how knowing where your food comes from can increase satisfaction, eh?)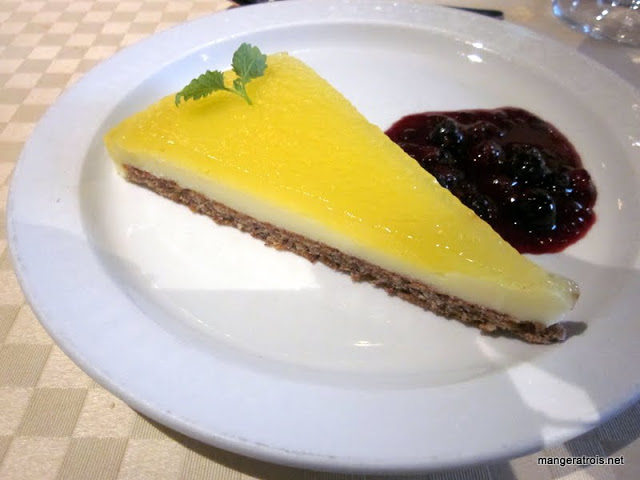 For dessert we had "cheesecake served with forest berry compot."  I'm surprised that the description didn't mention lemon considering the top half of the "cheesecake" was lemon!  It was scrumptious and we both loved it. 
After dinner, since it was too gross to be out on deck, we hung out in the internet lounge.  We ended up chatting with the other young couple on the ship!  (Most people on the ship were significantly older than we were, so this other couple had stood out to us when we'd seen them, we just weren't outgoing enough to make first contact.)  We stayed up much too late and had a really wonderful time talking together.  Lance and I both wished that we had sought them out sooner! 
You can view all the pictures from the day here. 
May 26 Nordkapp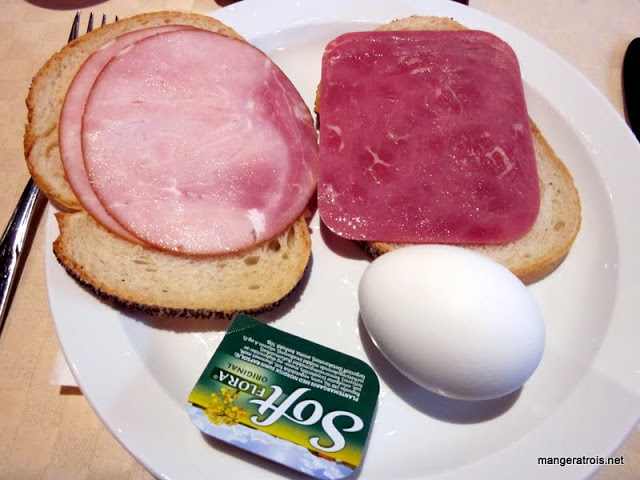 Lance had his usual breakfast.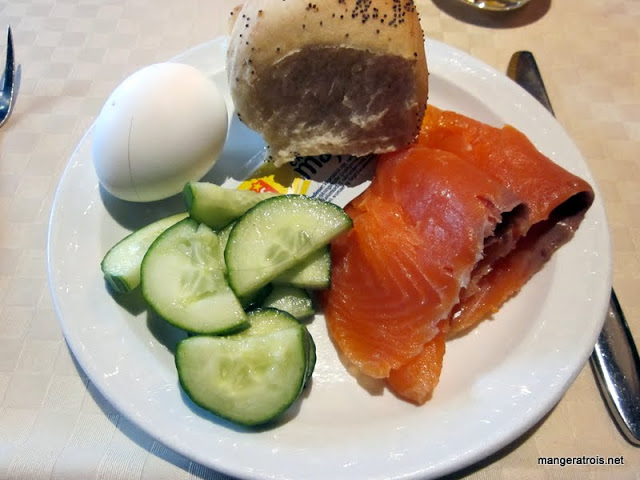 And I had mine.  For someone who has only come to like cucumber in the last four years, I sure did eat a lot of it while on the ship.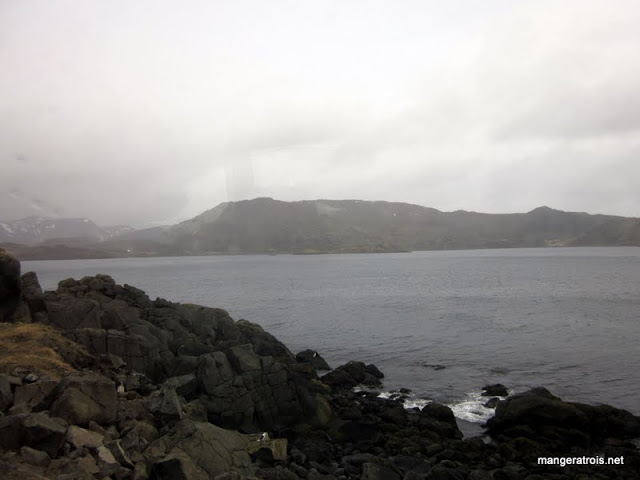 We landed in Honningsvåg around noon and joined our third pre-booked excursion of the trip.  This time it was off to Nordkapp for about three and a half hours!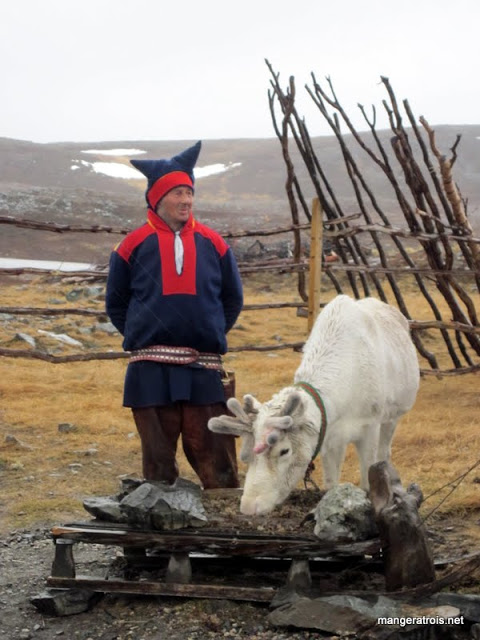 The weather was gross, again, but we did it anyway!  We even saw a Sami chieftain with his reindeer on the way.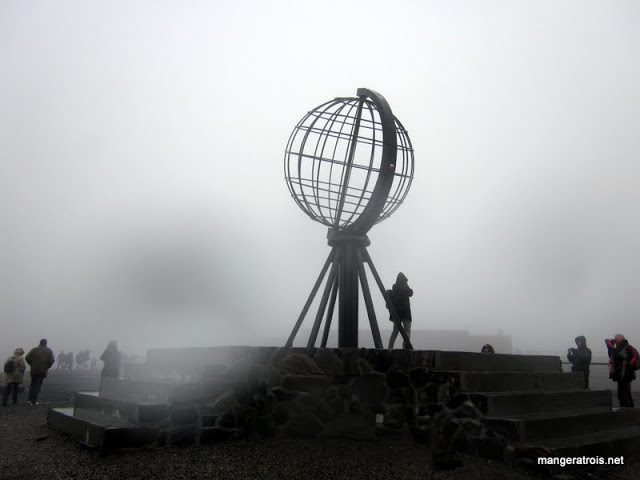 We tried not to blow off the cape itself and then enjoyed the 20 minute movie that showed us how lovely the cape would have looked if the weather had been nice.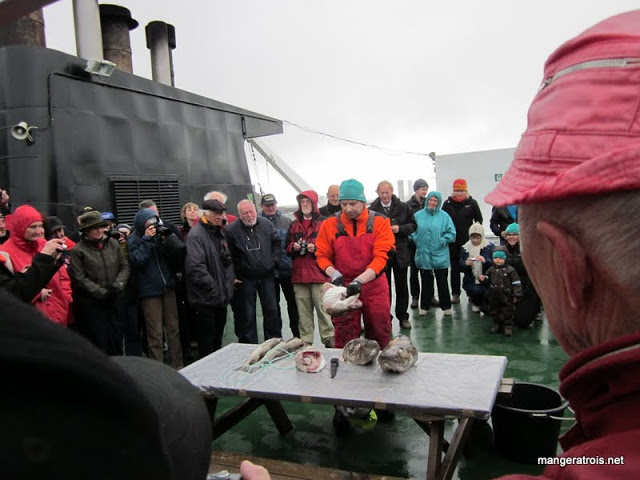 Once back on the ship we got a demonstration from a cod fisherman which was fascinating and disgusting all at the same time.  We ran into our new German friends, Philip and Christina, and decided to sit together at dinner since it was a seafood buffet with free seating.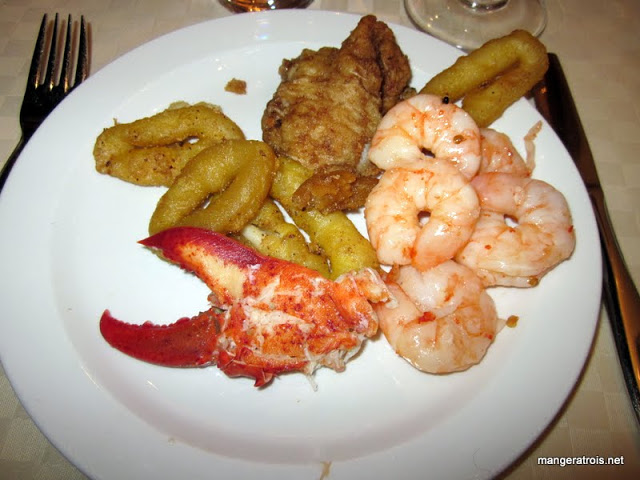 Sadly, I had to leave dinner shortly after sitting down since I started to experience my first seasickness of the trip, but Lance had a few plates full of seafood and a great time talking with our new friends.  Once he was back in the cabin we packed our stuff up (since our bags had to be in the hallway by midnight) and called it a night. 
You can view all the pictures from the day here. 
May 27 Kirkenes, Russian border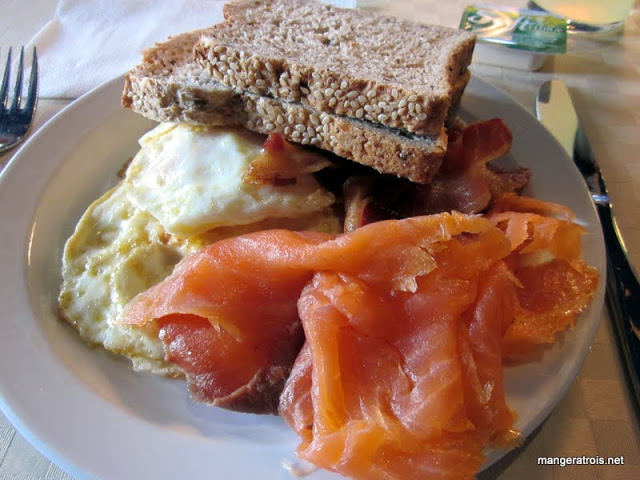 We woke up super early since we had to be out of our rooms by 8am.  I was feeling much better in the morning and had breakfast of bread, salmon, and eggs.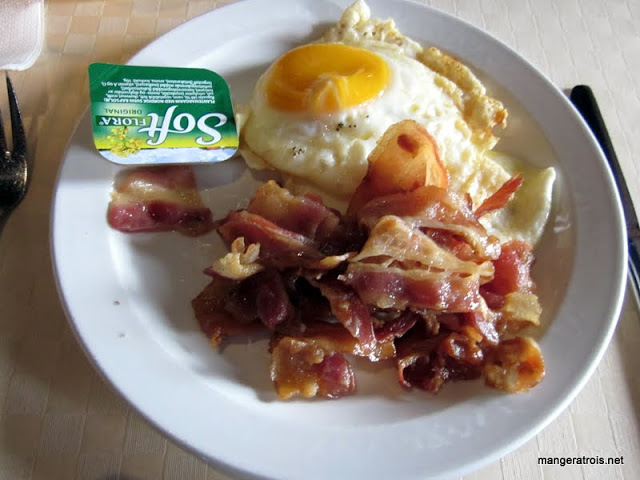 Lance had eggs and bacon.  We hung out in the internet lounge until we made port in Kirkenes since it was much too cold to be out on deck!
The time on the ship was super informative and educational.  We really hadn't expected much and just thought it would be a neat way to see the country.  It was that and so much more.  I'm glad we did as many excursions as we did, since it was great to have a knowledgeable tour guide in the places we had never been.  My only qualm about the entire experience is that it was clearly geared toward older folks, but the ship itself wasn't very accessible in terms of getting around on board or even getting into that top bunk to sleep.  Perhaps the newer Hurtigruten ships have better accessibility? 
That said, we had a really wonderful time and we're both so glad we decided to go the water route instead of the land route.  I'm not sure we'll ever do this again, but I'm glad we got to do it once.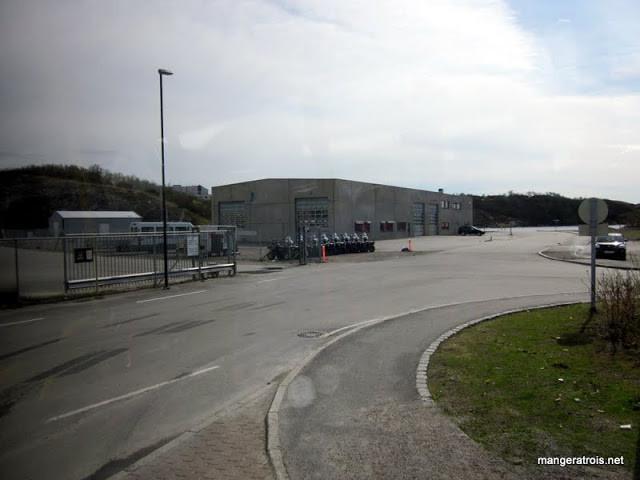 Once in Kirkenes, we joined up with the only excursion we booked on the ship.  Lance had wanted to take the pictured ATVs to the Russian border, but we compromised and took a bus instead.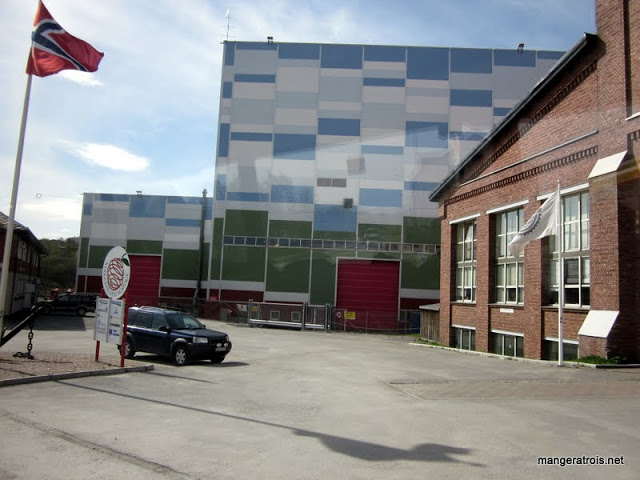 The bus took us through the teeny town of Kirkenes…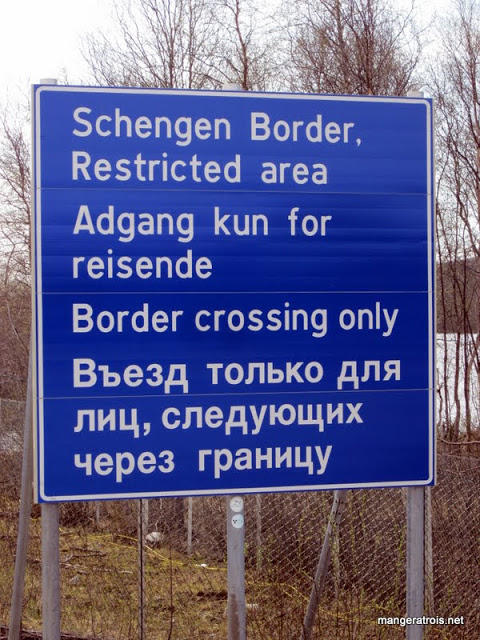 And then to the Russian border.  We were able to wave at Russia and buy thimbles but, of course, we couldn't enter without visas.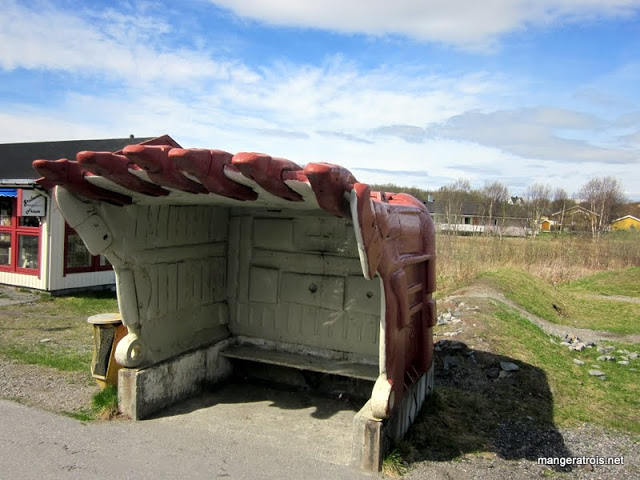 While bussing around we saw this great bus shelter.  It looks like a huge bear claw and is hoodlum-resistant.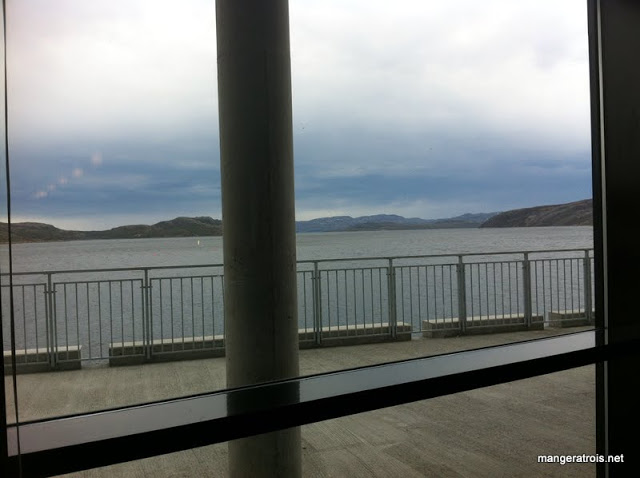 We checked into our room at the Thon Hotel after the excursion.  We relaxed a bit and tried to get used to being on land again!  The town of Kirkenes is teeny, so we decided to have dinner at the hotel where we had this great view of the harbor.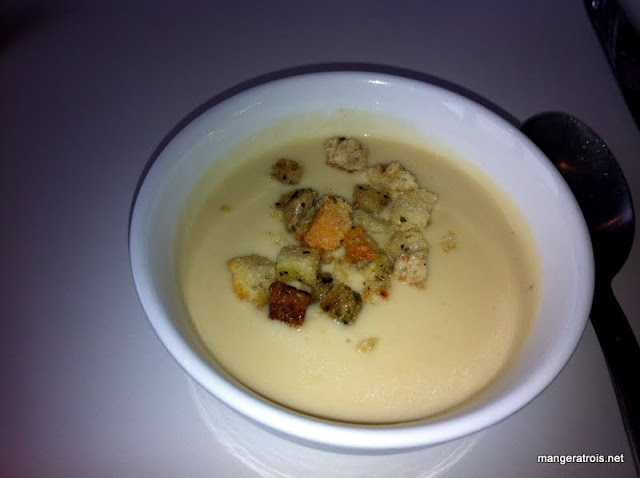 Our meal started off with an "amuse" of cauliflower soup.  It was really a bowl of soup, not just an amuse, and it was great.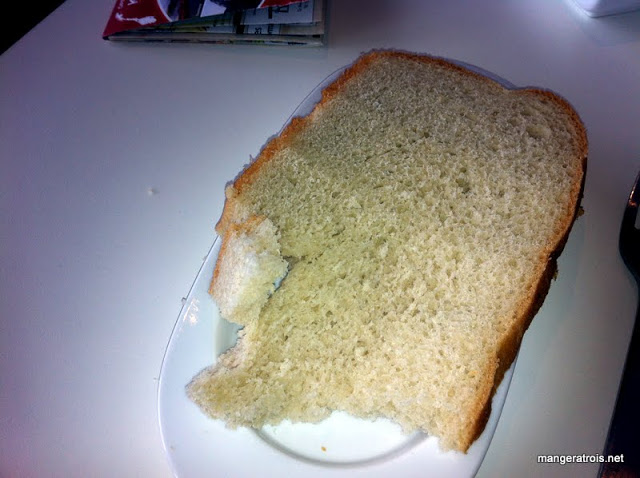 Our waiter served us slices of foccacia bread.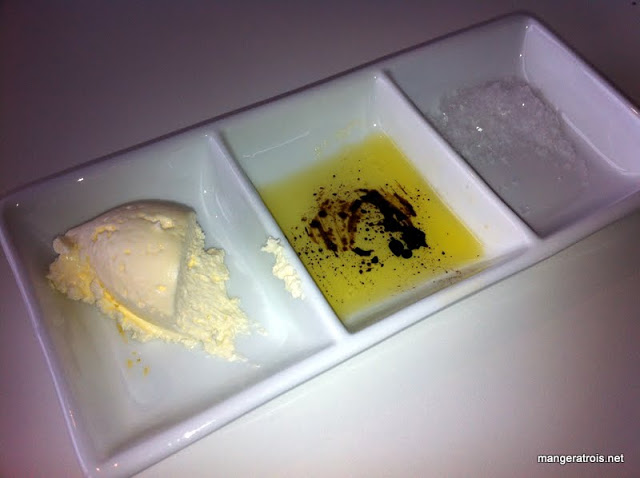 As well as butter, oil and vinegar, and flake salt to dip the bread in.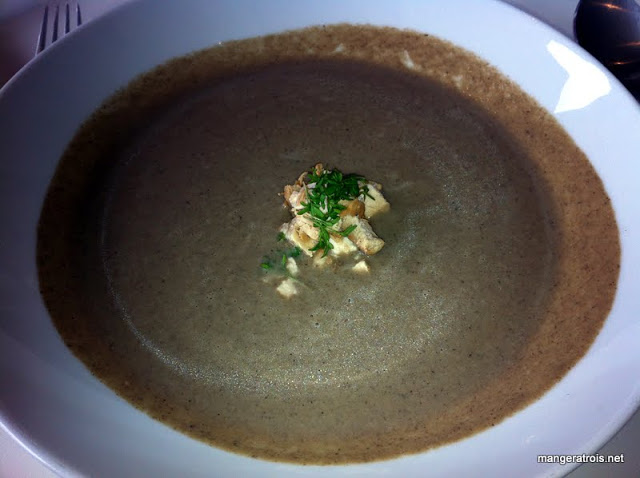 Since I hadn't know about the cauliflower soup and was in a soup mood, I ordered a bowl of creamy mushroom soup.  It was huge and scrumptious.  Just what I wanted.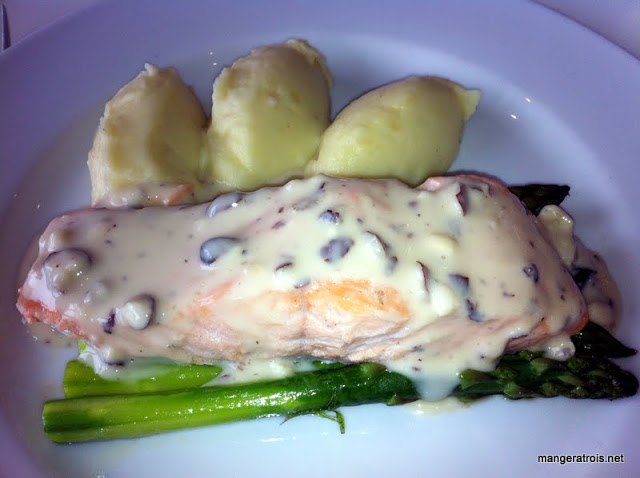 My main course was salmon with hazelnut cream sauce, asparagus, and potato puree.  Every bite was perfect.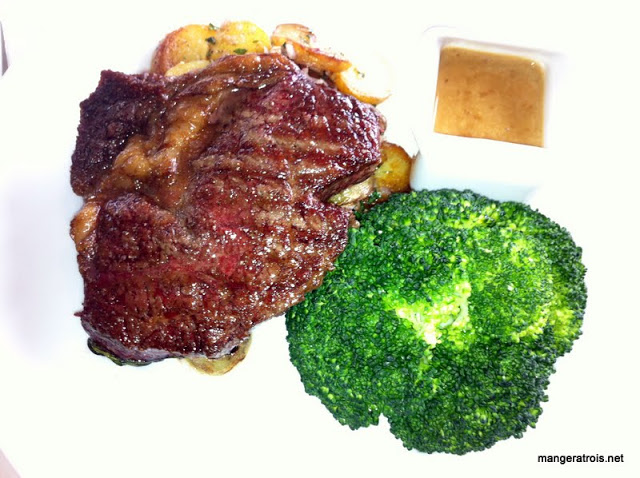 Lance got entrecote with potatoes, broccoli, and pepper sauce.  Sorry about the picture – he took it!  This was the first steak he'd had in a while, so he was very happy with it.  Then we went to the local Narvesen for thimbles and ice cream.  This meal was surprisingly grand.  We didn't have high hopes for a hotel meal in a little teeny town and were very impressed.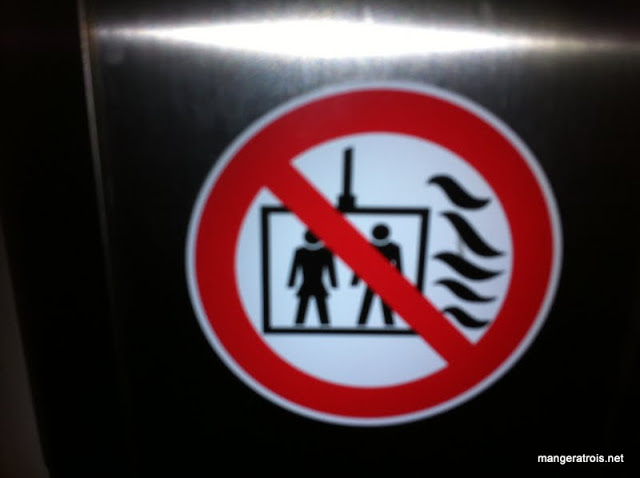 And we learned that you should not set fire to people in elevators. 
You can view all the pictures from the day here. 
Begin with The Norway Diaries - Part One Continue with The Norway Diaries - Part Four